Guest blog by Gaines Huguley
partner in Shafer& Huguley Communications
Check out our News Break video where Gaines shares his experience at Sharon Manor with us!
Just before Christmas my wife, Kendall, and I made the short drive to Abbeville County in South Carolina. I was working on a special project requiring overnight accommodations in the area and she was able to join me for the evening and the following day. With the busy Christmas Holidays upon us, this was an unexpected and relaxing getaway for both of us. A good friend recommended we stay at the Sharon Manor Bed and Breakfast, outside of Abbeville, SC, in a small, rural community called Sharon. I didn't know what to expect, but I trusted my friend's recommendation.
Great First Impressions
The Sharon Manor Bed and Breakfast is located about 5-miles southwest of Abbeville, SC just off SC Highway 72. I pulled my truck off the highway and onto the side road just as the sun was setting in the west. A few minutes later, I was turning into a circular drive festively lined with candle luminaries. The drive circled to the front porch, which was decorated traditionally for the holiday season with wreaths, bows, and garlands. If someone were to write a song about this setting, it might be entitled, "Christmas in the County". I parked and followed the walkway up to the front porch. 
Before making the trip, I visited Sharon Manor's Facebook page and learned the Chupp family owned a historic former schoolhouse, which had been renovated and repurposed to serve as an event venue and bed and breakfast inn. Sharon Manor hosts indoor and outdoor weddings, reunions, corporate events, and any other special occasions or celebrations. Sharon Manor can host an event or gathering accommodating up to 150+ people.
I made my way up the steps and onto the porch, where Benita Chupp greeted me. Benita welcomed me inside to a large main room. I've always been fascinated with construction, and especially historic renovations, so I immediately questioned Benita about the schoolhouse building. I learned the schoolhouse had been built in the 1920s and the Chupp family purchased the schoolhouse and performed a second renovation in 2010. The previous owners completed the initial renovation several years earlier. Benita showed me the beautifully decorated main gathering area and the adjoining kitchen. As the father of three girls who enjoy cooking, I have watched my share of cooking shows, and the working kitchen at Sharon Manor could serve as the set for Barefoot Contessa's kitchen. I immediately wanted to hang out here.
Inside Sharon Manor
The high ceilings and tall windows allowed natural light to filter in and provide views of the surrounding farmland. A large gas range, oven and griddle, and a variety of pots and pans were about the room. Little did I know at the time, but the cozy center prep island with stools would provide us with an ideal vantage point to watch as Benita, and her daughter Brandi, prepared our breakfast the following morning.  A "home" theater sits off the main gathering room, as well as a dedicated area for roasting coffee. A grilling deck, hot tub, and spa are located outside. The brick schoolhouse was built as a one-level facility, and three classrooms had been converted into bedroom suites. Each bedroom features a king-size bed, a kitchenette, breakfast nook, and access to the outdoor grilling deck, hot tub, and spa.
Soon after completing my tour Kendall arrived and we settled into our room. Sharon Manor was hosting a company Christmas party this evening, so we planned to visit Uptown Greenwood for dinner and to see the Christmas lights and holiday displays at the Connie Maxwell Children's Home. We visited with Benita and Brandi before making the 20-minute drive to Greenwood. I could tell Kendall approved of our accommodations for the evening and enjoyed visiting with Benita and Brandi. 
That evening, we marveled at the number of Christmas lights and displays at the Connie Maxwell Children's Home and enjoyed the delicious burgers at the Fox & Hound Pub at the Inn on the Square in Greenwood. After dinner, we made the short drive back to our suite at Shannon Manor.
Comforts and Coffee
There's nothing like getting a good night's sleep and our king-size bed at Sharon Manor did not disappoint. It was amazingly comfortable. So comfortable, that we didn't want to get out of bed. However, Benita provided us with a small bag of Sharon Manor's own "Thru the Flame" coffee, so I was motivated to get up and get going. The Chupp family owns and operates a small roasting company, sourcing fair and direct trade coffees from around the world. So, I brewed a couple of cups of fresh Honduran coffee. What a way to jump-start our day!
Our friends, Jarod, and Bobby joined us for coffee – our second cup of the freshly-roasted "Thru the Flame" coffee. We sat in the kitchen at the prep island and chatted with Benita and Brandi as they prepared our breakfast. 
An Unforgettable Breakfast
First, Brandi served us breakfast bowls with grits, sausage, spinach, and potatoes, topped with over-easy fried eggs. And if that didn't completely satisfy our hunger, we were served fresh-baked cinnamon rolls, fresh fruit, and yogurt. I know my way around a good breakfast, and this breakfast wasn't your normal, run-of-the-mill breakfast. Maybe it was my fully caffeinated taste buds, but this breakfast was amazingly delicious. We wanted to linger, but with one more round of freshly roasted coffee and we were off for a day of touring the small-town charms of Abbeville, South Carolina. 
Out on the Town
We made the short five-mile drive from Sharon Manor to Abbeville, a small town with a population of just over five thousand people. Abbeville was founded in 1785 in an area settled thirty years earlier by French Huguenots, and was named after Abbeville, France. Green spaces in downtown areas have been emerging since the 1970s. However, in this category, Abbeville is a trendsetter. The Abbeville town square was established during a period of prosperity between 1880 and 1910. We parked "on the square" and visited the first of six destinations. First stop, Pendleton Farms.
Pendelton Farms is a gift shop located on the square, specializing in home décor furnishings, home accents, regional foods, and beverage specialties. Most of the folks we saw were shopping for specialty food items, like jellies, dry rubs, bloody Mary mixes, salsas, coffees, etc.
Our next stop was the Belmont Inn, which is listed on the National Register of Historic Places. We met the owner Susan Botts, and she gave us a quick tour of the 25-room hotel, including an amazing suite of three connected rooms with a common veranda overlooking the town square. Also of note was The Veranda restaurant and an old English-themed pub called JP's Food & Spirits. The Belmont Inn would make for perfect accommodations if attending an event at The Abbeville Opera House, a performing arts venue that hosts concerts, comedy, plays, and other community events.
Our next stop was Trinity Episcopal Church, an old English parish church located a block off the square. The cornerstone for Trinity Episcopal was laid in 1859. We were able to step inside for a few minutes. However, the church is presently closed to visitors, as a major restoration effort is underway to save this historic and architecturally acclaimed church. For more information about the restoration visit RestoreTrinity.org. We were able to visit the labyrinth on the church grounds. A labyrinth is a quiet place for walking prayer. Prayer markers are present along the circular journey. Space is provided to encourage knowing and connecting to the divine.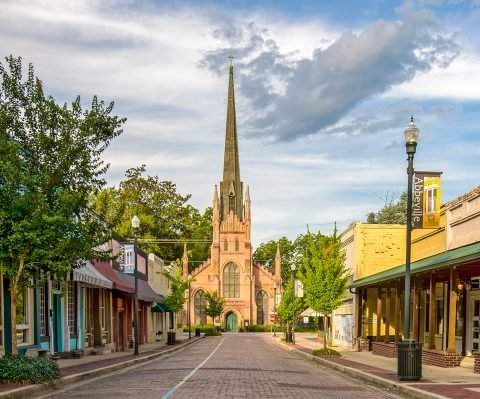 A block away, we visited Breezy Quarters, Soap and Bath Factory. I must admit, I was very much out of my comfort zone at Breezy Quarters, however, Kendall wasn't. She flittered about the shop, moving from soaps to lotions, to scented candles. Paige Bowser, the owner, was very accommodating and answered every question Kendall had as she loaded up her shopping basket with gifts for our three girls. I did get a free sample of "no melt" lip balm. Who knew lip balm could melt?
Escaping to the Countryside
We departed Abbeville, and drove about 15 miles to Southern Oaks Jerseys, Farm & Creamery; a family-owned and operated all Jersey dairy farm and creamery. A small, aluminum building, serves as the market where shoppers find local, fresh dairy including grade A raw milk, low-heat pasteurized milk, buttermilk, chocolate milk, and my favorite, ice cream.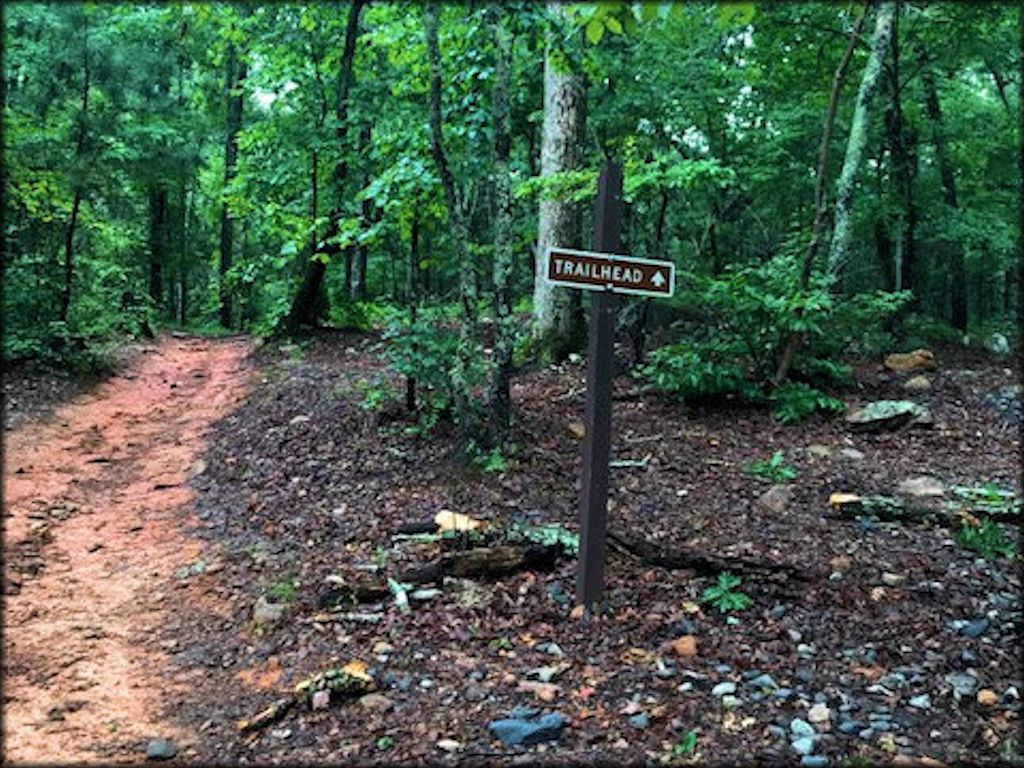 We were still full of the amazing breakfast at Sharon Manor, so our last destination and activity for the day were welcomed. Parson's Mountain Recreation Area is a state recreational area, featuring a 28-acre lake, lakeside campground, and a four-mile hiking trail. The trail crosses a pedestrian bridge and spillway. Other features include a nice picnic area and a boat ramp for non-motorized boats. Parson's Mountain Recreation Area is in the northern portion of the Long Cane Ranger District. 
The hike and fresh winter air were the perfect endings to our little adventure. I can't say enough good things about the nice people, delicious meal, and exceptional accommodations enjoyed at Sharon Manor. Would we recommend Sharon Manor to others? You bet! At a time when many of us are hurried and distracted, this easy getaway adventure was the perfect antidote to busyness. So, go off the beaten path and enjoy a place where you truly can… the Sharon Manor Bed and Breakfast.

The Sharon Manor Bed and Breakfast is located about 5 miles south of Abbeville and 15 miles from Lake Richard B. Russell
For more information:
Phone: (864) 378-9310
sharonmanorevents@gmail.com