South Carolina Peaches and Cream Oatmeal
Thank you to Slice of Jess for letting us use this recipe! Follow her on Instagram at @sliceofjess to see how she's feelin' peachy this season.
2 peaches, roughly chopped
2 tablespoons butter
1 tablespoon brown sugar
2 cups quick oats
1.5-3 cups milk (depending on your thickness preference)
1 tablespoon chia seeds
2 tablespoons cream cheese
Suggested toppings: sliced almonds, local honey, hemp hearts, and additional fresh fruit
Add peaches, butter and brown sugar to a pot over medium heat. Sauté  for 1-2 minutes. Pour in desired amount of milk along with the chia seeds and cream cheese, then bring to a boil. Add quick oats and continue to simmer on low heat, mixing sporadically, until milk is absorbed. This usually takes about four minutes.  Serve with desired toppings and enjoy.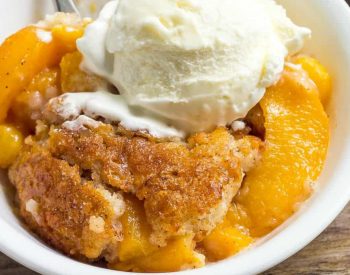 Bubblin' Hot Peach Cobbler
1 cup sugar
1 cup all-purpose flour
2 cups cut-up peaches with juice
1 stick butter
1 teaspoon cinnamon
1 cup milk
1 teaspoon vanilla
Combine sugar, butter and vanilla. Add flour then cinnamon. Grease baking pan with butter and place peaches on bottom. Cover with mixture of sugar, butter, flour, and milk. Sprinkle cinnamon on top. Bake 25 minutes at 350 degrees until brown. Serve with vanilla ice cream. Yum!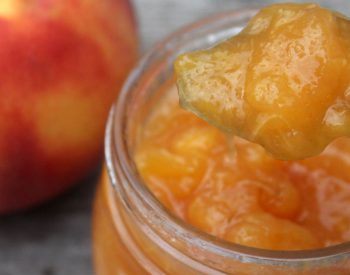 Spicy Peach Jam
4 1⁄2 pounds ripe peaches peeled
1 teaspoon cinnamon
1 teaspoon nutmeg
1 teaspoon cloves
2 pounds sugar
Tie spices in bag. Mix everything well and boil until the consistency of jelly.
Remove spice bag. Pack in hot jars to top and seal tightly. Makes 4 pints.
Peachy Sweet Potatoes
2 cups peaches peeled and halved
3 tablespoons margarine, softened
2 1⁄2 cups sweet potatoes, cooked and mashed
2 tablespoons brown sugar
1 1⁄2 teaspoons grated orange peel
1⁄4 teaspoon salt
2 tablespoons orange juice
3 tablespoons peach juice
3⁄4 cup chopped pecans
3 tablespoons brown sugar
Arrange peach halves with cut side up in lightly buttered baking dish. Cream butter until very soft. Add mashed sweet potatoes. Add 2 tablespoons brown sugar, orange peel, salt, orange juice and peach juice. Whip all together.
Spoon mixture into peach halves. Sprinkle with chopped pecans and brown sugar. Bake at 350 degrees for 20 minutes.
Serves 8.
May be assembled ahead and then baked right before serving.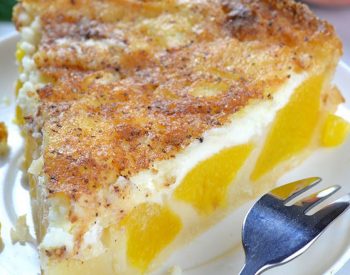 Peaches and Cream Pie
1 unbaked 8-inch pie shell
5-6 fresh South Carolina peaches, peeled and sliced
1 cup sugar
5 tablespoons flour
1 cup whipping cream
1 teaspoon vanilla
¼ cup slivered almonds
Arrange peach slices in pie shell. Mix sugar, flour, whipping cream and vanilla together. Pour over peaches.
Sprinkle almonds over mixture.
Bake 1 – 1 ½ hours at 350 degrees.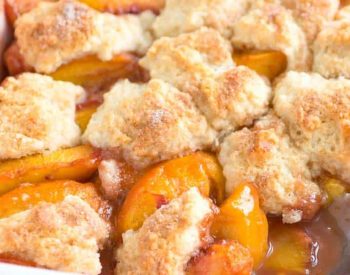 Peach Casserole
3 ½ cups fresh peaches
½ cup sugar
5 tablespoons flour
2 cups grated cheese
1 stick melted margarine
1 (1/4 pound) package Ritz crackers, crushed
Put peaches in bottom of casserole dish coated with non-stick cooking spray.
Mix sugar and flour; put on top of peaches. Add grated cheese. Mix crushed crackers and melted margarine together and add to top. Bake at 350 degrees until bubbly.
How to Store Peaches:
To ripen firm peaches, store between 65-70 degrees (high humidity). Peaches will ripen in 2-4 days depending on firmness. Ripe peaches can be stored for 3-4 days in single layer in refrigerator at 40 degrees. If stored more than 3 days, place in plastic bag to prevent dehydration.
South Carolina Peach Caprese Salad
Thank you to The Taylor House for giving us permission to use this recipe! Follow her on Instagram at @thetaylorhouse to see how she's feelin' peachy this season.
4 medium peaches, pitted and thinly sliced
8 oz. fresh mozzarella sliced
4 cups chopped romaine lettuce
¼ cup almonds and cranberry mix
¼ cup minced fresh basil
¼ cup balsamic vinegar
2 tablespoons honey
1 tablespoon dijon mustard
¼ cup olive oil
salt and pepper to taste.
For Salad:
In a large salad bowl, combine peaches, mozzarella, lettuce, almonds, cranberries, and basil.
For Dressing:
In a small bowl, combine balsamic vinegar, honey, mustard, and olive oil until smooth. Season with salt and pepper to taste.
Just before serving, pour dressing over salad and toss to combine.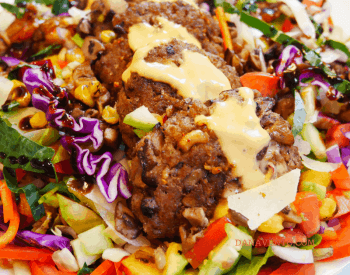 Just Peachy Air-Fried Blended Beef Burger Sliders
Thank you to Dana Vento for giving us permission to use this recipe! Follow her on Instagram at @dana.vento to see how she's feelin' peachy this season.
Burger Mixture:
1/2 pound chopped mushroom mix (oyster, portabella, cremini)
2 tablespoon olive oil
1 pound ground beef
1/2 teaspoon Mediterranean sea salt
1/2 teaspoon fresh milled pepper
2 teaspoons minced garlic
1/4 cup plain breadcrumbs (binding agent)
applewood rub
Salad Mixture:
12 ounces baby mixed greens
a handful of arugula
1 cup kale/red cabbage mixture (dino kale, green onions, red cabbage, green cabbage)
1 peach, diced
1 large avocado, peeled, pitted and diced
2 large roma tomatoes, one diced and the other sliced into circles then half pieces
1/4 cup red onion, chopped
3/4 cup roasted corn (fresh or store-bought, frozen)
1/2 cucumber, peeled and chopped
2 tablespoons shaved manchego
4 tablespoons balsamic glaze
chipotle dressing
Chop mushrooms on a cutting board or in a food processor. Using a frying pan, warm the olive oil over medium heat and then add in the chopped mushroom mixture. Sprinkle in salt and pepper to taste. Saute for 5-7 minutes, remove mushrooms from heat and set aside (5-7 minutes to cool.) Reserve two tablespoons of mixture for later, then put the rest in a large mixing bowl.
Preheat air fryer to 350° F. While the air fryer is preheating, create sliders. Add ground beef, salt, pepper, garlic, and breadcrumbs to mixing bowl with mushrooms. Mix really well and form 6-8 small sliders. Add applewood rub to the top of each slider.
Air fry sliders one at a time for 8-12 minutes each (depending on your preference of rare to well-cooked.) While these are cooking, begin salad preparation.
Layer a large serving platter with baby mixed greens, next scatter arugula. Add dino kale/red cabbage mix. Next, around the interior of the bowl, surround lettuce bed with the 1/2 slices of tomato all the way around.
Add sliders. Place sliders down the middle of the salad, layering them upon one another until you go end-to-end on the bowl. Now, start adding the veggies. Peaches, avocado, tomato, red onion, corn, cucumber, then shaved cheese. Last, drizzle the burgers with chipotle dressing and the lettuce mixture with balsamic drizzle. Serve family-style, with large serving ware and bowls.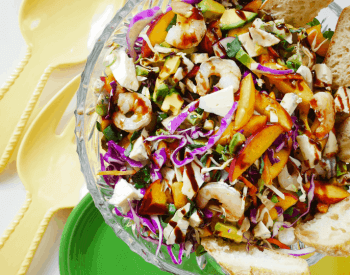 Old 96 District-Inspired Peach Shrimp Salad with Gorgonzola
Thank you to Dana Vento for giving us permission to use this recipe! Follow her on Instagram at @dana.vento to see how she's feelin' peachy this season.
16 cooked shrimp (tail off, deveined)
3 cups kale mix (dino kale, green onion, red cabbage, white cabbage)
1 cup baby greens
1 avocado, diced
2 large fresh peaches, one sliced and one diced
1/3 cup gorgonzola (crumbled pieces)
salt and (freshly milled) pepper, to taste
ciabatta sliced bread
2 tablespoons organic honey
3 tablespoons balsamic glaze
In a large bowl, layer shredded kale mix and baby green mixture. Mix greens well. Follow with diced avocado pieces sprinkling across green mixture. Then add shrimp one-by-one across the mixture. Do not toss.
Place the cut baguette chunks around perimeter of the bowl, for easy grabbing. Add crumbled gorgonzola, then chopped peaches. Mist with salt and pepper to taste, then add sliced peaches to the very top. Drizzle with both honey and balsamic glaze to finish.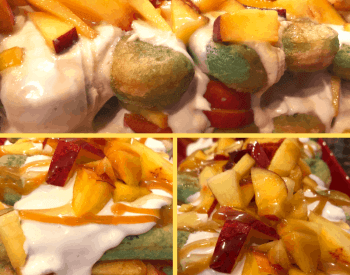 Delicious and Easy Peach Marscarpone Ladyfingers
Thank you to Dana Vento for giving us permission to use this recipe! Follow her on Instagram at @dana.vento to see how she's feelin' peachy this season.
2 cups heavy whipping cream
3/4 cup sugar
marscarpone
2 teaspoons vanilla flavoring
3 teaspoons almond flavoring
1/4 cup equal parts water and sugar
2 splashes blue curacao liqueur
3 peaches rinsed, chopped with skin on
24 ladyfingers (12 per layer)
2 graham crackers, crushed by hand
caramel sauce
honey
Prepare marscarpone filling: add sugar, vanilla, almond, marscarpone, and heavy cream to a bowl, process all until smooth. Refrigerate ~30-60 min, until lightly congealed.
In small saucepan, add water and sugar. Allow sugar to dissolve and remove when water comes to a boil. Add 2 splashes of blue curacao liqueur. Pour into flat dish wide enough for a lady finger.
Chop peaches and place into bowl, separate 1/4 of contents.
Dredge each ladyfinger quickly through sauce and place in tray (12 on the first layer, set others aside.) Drizzle leftover dipping sauce over the ladyfingers. Keep ladyfingers on tray close together.
Add the 3/4 section of peaches on top. Remove marscarpone filling from fridge and use ladle to evenly cover. Add crumbled graham cracker. Drizzle honey in "S" formation from top to bottom.
Stack 2nd layer of ladyfingers, keeping them close together. Top with remaining marscarpone filling and peaches. Drizzle caramel and honey over the top.
Peaches and Almond Cream Braided Strudel
Thank you to Dana Vento for giving us permission to use this recipe! Follow her on Instagram at @dana.vento to see how she's feelin' peachy this season.
1 block cream cheese, softened
3/4 cups white sugar
2 teaspoons almond flavoring
1 tsp vanilla flavoring
2 egg yolks
2 tablespoons water
1 unbaked pie crust
5 peaches, rinsed/uniformly sliced with skin on
confectioners sugar
Combine 1 egg yolk and 2 tablespoons of water, whisk well and set aside.
Combine, cream cheese, 1/2 cup white sugar, almond flavoring, vanilla flavoring, and remaining egg yolk and blend until smooth. Place peaches in separate bowl and dust with remaining 1/4 cup sugar. Set aside.
Unroll pie crust, and roll out on a smooth surface into a really large oval. On other side's exterior, slice into crust about 1/3 of the way into the middle. Repeat and keep strips at ~1″ intervals to be braided later.
Take 3 large tablespoons of the almond cream cheese filling, place in center of pie crust, avoiding the cuts. Use spoon to swirl and cover middle surface area. Remove peaches and cover the cream surface, allowing peaches to overlap. Alternating left to right, pull pie strips across the filling to form a braid. Pinch ends.
Before baking, brush strudel with the whisked egg wash. Bake at 375°F for 35 minutes or until golden brown. Cool, dust with confectioners sugar, and serve.
Dutch Crumb Peach Blueberry Pie
Thank you to Dana Vento for giving us permission to use this recipe! Follow her on Instagram at @dana.vento to see how she's feelin' peachy this season.
1 Pie Crust (frozen or homemade)
2-3 Large Peaches (washed, dried, skin on, sliced thin and uniformly)
1/2 Cup Blueberries (washed, dried)
1/2 Cup butter (softened, not liquid)
1 Cup Flour
1/2 Cup Brown Sugar
2 Ice Cream Cone Cups (Crushed)
Preheat oven to 400° F.
Place the pie crust in a pan.
Use prepped blueberries to be the first layer into the pie crust.
Follow with a layer of sliced peaches.
Repeat peach layering one more time, or until you are out of peach slices.
For the Dutch Crumb Topping:
Using a microwave-safe bowl, make sure butter is softened, not all liquid
Add-in brown sugar, then flour.
Then the secret ingredient … ice cream cones crushed. Mix until crumbly.
Spoon by spoon drop onto the pie, making sure to cover the entire pie surface.
You can GENTLY press on the topping to make certain its covering, but as it bakes it will also spread.
Once covered, place pie dish on tray (to help with spill-over) bake in preheated oven for 30-35 minutes until the top is golden brown*(see notes)
Remove from oven and allow to cool 1-hour minimum before serving (remember sugars in fresh fruit pie will be HOT!)
Serve warm or cold.
Summer's Best and Easiest Peach Crumb Pie
Thank you to Dana Vento for giving us permission to use this recipe! Follow her on Instagram at @dana.vento to see how she's feelin' peachy this season.
4-5 Large Peaches washed and uniformly sliced.
1 Refrigerated Pie Shell or Frozen Pie Shell (Shortcut Item!) or you can make one from scratch.
2/3 – 1 Cup Brown Sugar
1 Cup All-Purpose Flour
3/4 Cup Butter Softened
2 Tablespoons Granulated Sugar
Preheat Oven to 400°F.

Next, it's time to make the Dutch Crumb Topping for the peaches. In a large mixing bowl, combine, butter, flour, brown sugar, and granulated sugar.
You can use your fingers to mix or a pastry cutter and just make sure it is crumbly.
Set aside and prep the pie shell and fill the shell with peaches. 
Now, roll out the pie crust (if using refrigerated) and place into the pie pan. If you are using a frozen crust, follow directions to use (thaw, etc).
Use the sliced peaches and line the bottom of the crust. 
Layer the peaches over each other, tier after tier. Then, once peaches reach close to the top of the pan, it is time to place the dutch crumb topping on.
Make sure to cover the entire top and sides, you want a nice tight topping. 
Place in oven and bake on 400°F for 50-60 minutes, until the top is golden brown.
Remove from the oven and allow to cool.
Then serve.