Planning a girlfriend getaway? Come to Greenwood SC in the Old 96 District for pampering and places to stay with friendly, local character. Scoot over to Historic Abbeville, SC for an afternoon of small-town charm, and shop our unique stores for one-of-a-kind purchases. Rejuvenate yourself and the women close to you with spa and salon time—and places to wander, sip and chat. Your journey offers a scenic drive with plenty of catch-up time in the car from Charlotte and Atlanta, too. Join us, and follow the sample itinerary below.
The Fun Begins: FRIDAY
Welcome to Greenwood, SC
Greenwood, South Carolina is roughly one hour from Greenville, SC, 2.5 hours from Charlotte, NC, 3 hours from Atlanta, GA, and 3.5 hours from Charleston, SC. Plan to arrive in Greenwood, SC for lunch.
To kick off the adventure, we recommend local favorite, Kickers Restaurant. Kickers features creative twists on American and international dishes. Go for the foot-high plate of homemade onion rings, the Thai Chicken Salad, Ginger Pork Wrap, or Honey-Soy Broiled Salmon with veggies. The burgers receive lots of attention here, too.
Friday Hours: 11AM- 3PM, 5:30PM- 8PM
301 Maxwell Ave, Greenwood, SC 29646
(864) 943-5300
After lunch, focus your girlfriend getaway on personal inspiration with a visit to Benjamin Mays Historic Site. As president of Morehouse College, Dr. Benjamin Mays mentored Martin Luther King, Jr. during his time as a student. Their relationship continued throughout the Civil Rights movement. Many say that without Dr. Mays, Martin Luther King, Jr. might not have become the leader we know today. Visitors tour his childhood home to learn more about his legacy and to inform their own journey as citizens. The site closes at 2 pm on Friday, so call ahead of time and inquire about tours for your group. Tours are free. 

229 N Hospital St, Greenwood, SC 29646
(864) 223-8434
We suggest two, well-appointed places to stay: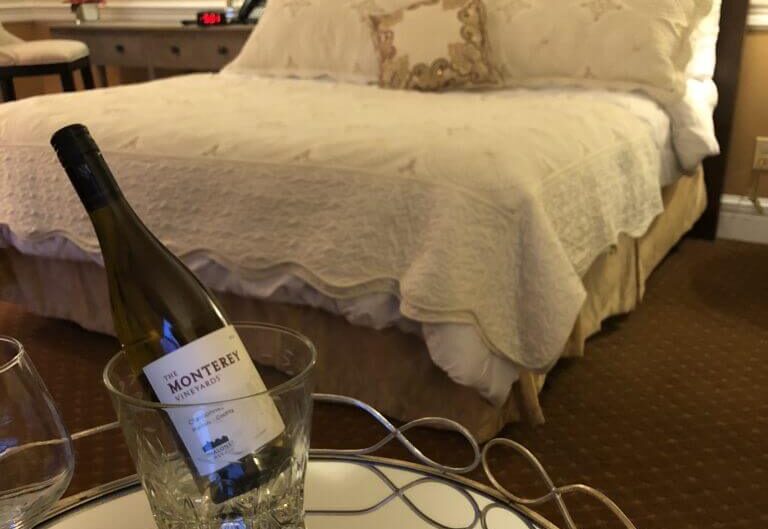 Inn on the Square is Greenwood's only boutique, independently owned hotel. Originally two buildings, the alley between them was transformed into the hotel lobby when the buildings were connected. The resulting airy space is friendly and welcoming with a lively bar, restaurant, a grand piano and cozy sofas. The hotel sits on the square in Uptown Greenwood. Guests park and walk to many destinations from here. Breakfast is complimentary and cooked to order. 

104 Court Ave E, Greenwood, SC 29646, (864) 330-1010
The Bridal Suite at Inn on the Square isn't just for honeymooners! It offers the perfect place to gather and chat.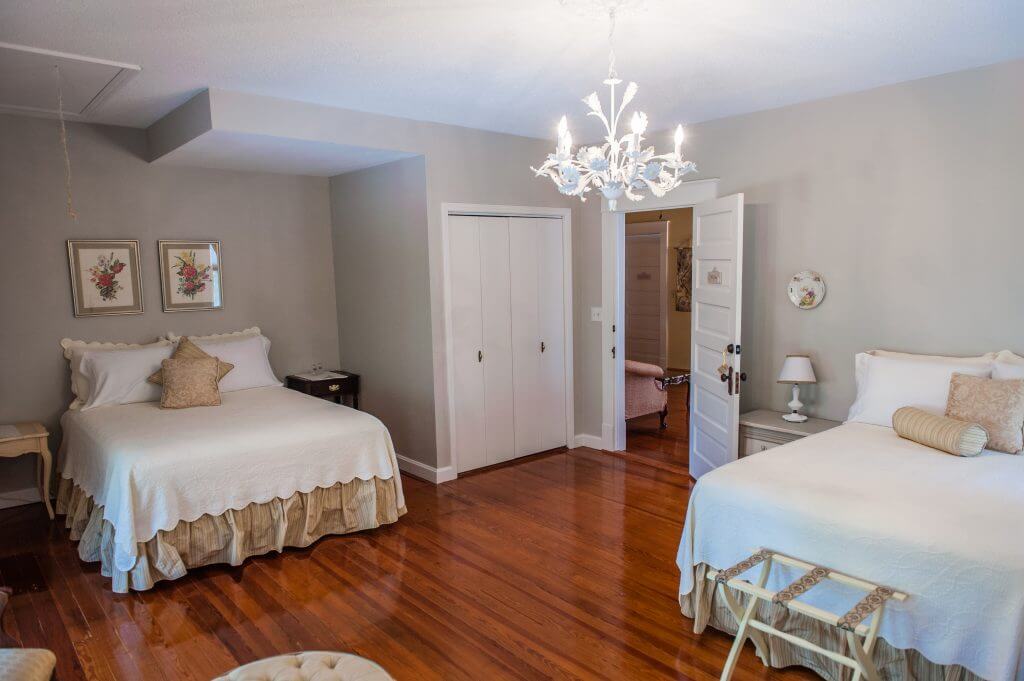 Lady Amelia's Bed & Breakfast Inn is run by a French-Canadian couple with a passion for cooking and B&Bs. Their historic 1894 home seems designed for a girlfriend getaway. It takes about 20 minutes to get here from Uptown Greenwood. Dinner guests from neighboring counties often drive here just to eat dinner. The restaurant's seasonal menu prices average about $20 for an entrée and features dishes such as Tilapia Dijonaise and Coquille St.-Jaques. The Inn grounds include an antique shop with tea sets and home decor for sale.
258 North Main St, Cross Hill, SC 29332
(864) 998-3040
Enjoy a pajama party with two beds in the same room, or place each person in a single room at Lady Amelia Bed & Breakfast.
Once everyone is settled, hit a few more spots, depending on the time. At Emerald Farm, walk the tranquil goat and livestock farm (they even have llamas) as peacocks roam, preen and call nearby. Buy handmade goat's milk soap at the gift shop and pet the goats, too! Ask about the model train set up that occupies an entire floor in the building with their antique shop. Guided tours are available by appointment.
Hours: 9AM-5PM Tuesday-Saturday
409 Emerald Farm Rd. Greenwood, SC 29646
(864) 223-2247
Enjoy a visit to the salon in the late afternoon. The Vintage Vault Marketplace and Salon is a hair salon with a home decor shop in front. The salon stations look like Joanna Gaines designed them, complete with rustic, exposed boards and porcelain tubs for soaking your feet.
Hours: 9AM-6PM Monday-Friday, 10AM-4PM Saturday
331 Main St, Greenwood, SC 29646
(864) 227-1914
For dinner, walk to Good Times Brewing Company/ The Millhouse. House-brewed beers and elevated pub fare made with local ingredients are served in a renovated textile mill. If beer's not your thing, you have plenty of other options. Their pizzas, sandwiches, wraps and pasta earn rave reviews. Expect a short wait on weekends.
Hours: Open every day to 10PM; Friday and Saturday to 11PM. Sunday brunch 11AM to 2PM.
237 Maxwell Ave, Greenwood, SC 29646
(864) 323-0321
---
Girlfriend Getaway: SATURDAY
Start strong with breakfast at West End Cafe. This family-owned cafe offers made-from-scratch omelets, biscuits, pancakes and traditional American breakfast foods with house-made condiments. (Tip: Try the house-made strawberry jam.)
Hours: 7AM-2PM Monday-Saturday
108 Old Abbeville Hwy, Greenwood, SC 29649
(864) 538-4440
Fill the morning with an appointment at The Spa on Maxwell. A registered nurse and her son own this peaceful space, offering medical spa treatments along with a Dead Sea salt exfoliating scrub or an essential oil body wrap. Visit the website for a full list of cutting-edge treatments. Clients come here from all over the state.
Hours: 10AM-6PM, Monday-Saturday
128 Maxwell Ave, Greenwood, SC 29646
(864) 993-3450
Next, explore the history, fun and shopping on The Square in Uptown Greenwood. Check out this site for more info and other shopping and food destinations.
A few "girlfriend getaway – friendly" spots include:
The Greenwood Museum: Three floors at "The Museum" (the local name) showcase exhibits focused on science, natural history, and the history of the area. In the "1900's Main Street" exhibit, explore upstate life at the turn of the century with a walk through a general store, railroad depot, classroom and more. Children enjoy hands-on activities, here, including dress up. The Railroad Historical Center is just a few blocks away. It features antique train cars.
Hours: 10AM- 5PM, Wednesday-Saturday
106 Main St N, Greenwood, SC 29646
(864) 229-7093
The Arts Center of Greenwood: Located next door to The Museum with rotating exhibits from local artists. You'll also find the Greenwood Visitor Center here. Hours: 10AM-5PM Monday-Friday, 10AM- 3PM Saturday
120 Main St, Greenwood, SC 29646
(864) 388-7800
Main & Maxwell: Located on the same street as the Arts Center and Museum, Main & Maxwell showcases some of the finest local and regional crafts—everything from paintings, pottery, handmade jewelry to glass-blown shot glasses. We guarantee you'll find items here that make you smile.
Hours: 10AM-6PM, Monday-Saturday
210 Main St, Greenwood, SC 29646
(864) 223-6229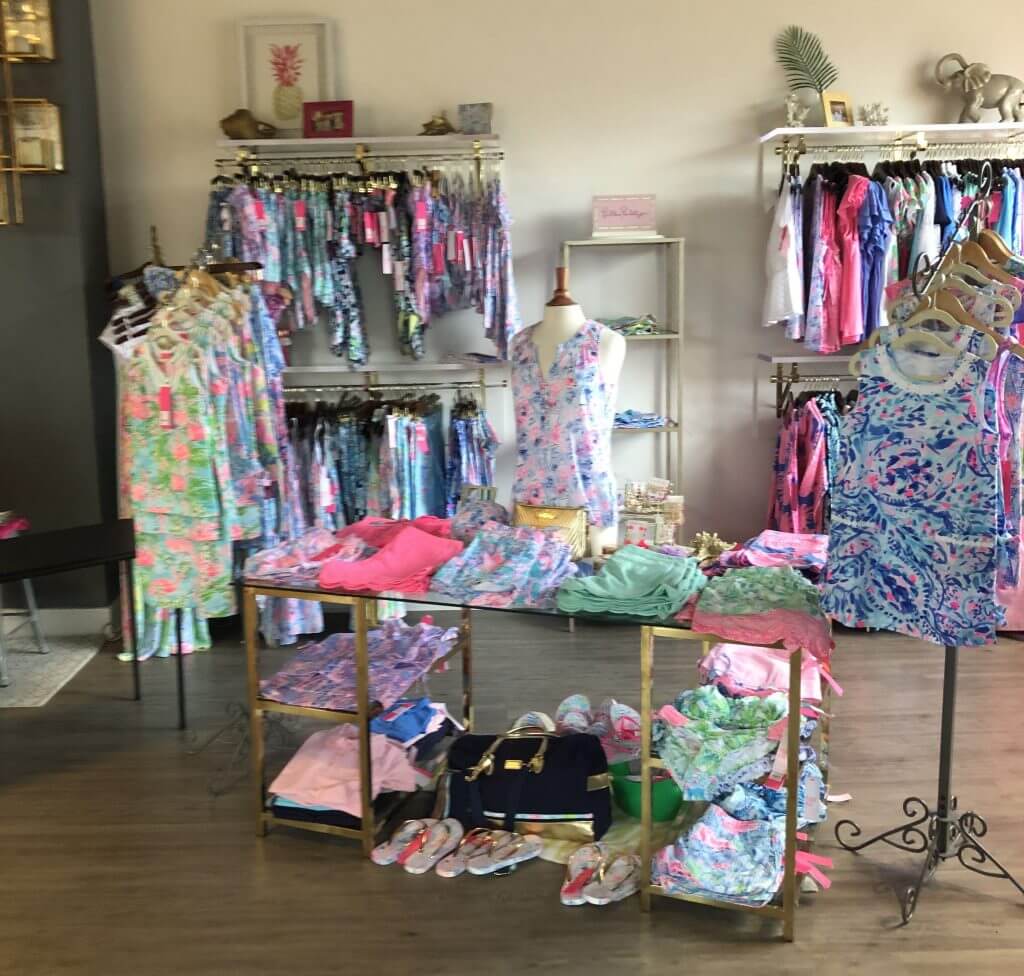 Sugar Boutique: Greenwood's designer boutique with brands such as Lilly Pulitzer, Southern Tide, Buddy Love and more. Inspired by the chic and sweetness of Southern women, Sugar's wardrobe exudes that same kind of charm.
Hours: 10AM-6PM, Monday-Saturday
334 Main St, Greenwood, SC 29646
(864) 229-6322
Thayer's Furniture and Fine Gifts: This furniture and home design store's size will deceive you—it takes up much of this city corner. Brides and grooms envy the selection of fine and everyday china and home goods. You can roam through entire rooms of home furnishings, art and furniture. Don't miss it.
Hours: 9:30AM-6PM Monday-Friday, 9:30AM-5:30PM Saturday
302 Main St, Greenwood, SC 29646
(864) 229-4000
T
The Vintage Vault: The front half of the salon. They specialize in vintage home decor.
Hours: 9AM-6PM Monday-Friday, 10AM-4PM Saturday
331 Main St, Greenwood, SC 29646
(864) 227-1914
For lunch, embrace the authenticity of Cuban culture at Buenavista Latin Cafe. You'll encounter Old Havana Cuba's tropical ambiance and cuisine in a cozy space with a bar right on the Square. General Manager/Owner Niria Abadia runs this small gem of a restaurant. You'll find one of the best Cuban sandwiches ever here with a playlist of Cuban/Latin classics playing in the background. Ask about the daily drink and meal specials—always good choices.
Hours: 11AM-2PM, 5PM-10PM Monday-Friday, 11AM-12AM Saturday
322 Main St. Greenwood, SC 29646
(864) 223-5990
With bellies full of empanadas, it's time to explore Downtown Abbeville, SC, about 20 minutes away from Greenwood. Travel blogger "Knoxville Road Tripper" refers to Abbeville as a "South Carolina treasure." Colorful buildings, many over a century old, line the streets, leading down to the Trinity Episcopal Church. This pre-Civil War church is modeled after European Gothic architecture with stained glass windows by renowned William Gibson, the "father of stained-glass painting in America." It's under renovation, now, and you can see it the moment you enter the Square. For other historic architecture, peek inside The Abbeville Opera House. Check the schedule and see stand-up comedy or live performances.
100 Court Square, Abbeville, SC 29620
(864) 366-9673
After parking on the main square, there's plenty to see within walking distance. Here are some highlights: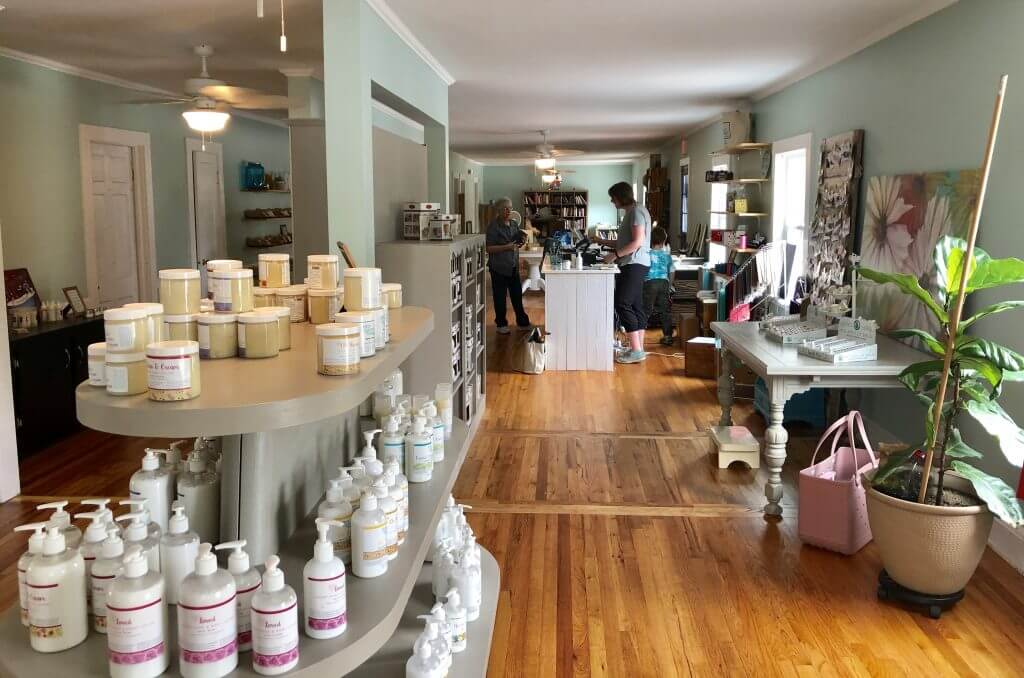 Breezy Quarters: Every girlfriend getaway deserves a stop here! Locally owned soap and body lotion/bath/skin care products company. Find a wide variety of creative products and soothing scents made with natural ingredients. Owner Paige Bowser makes everything here (you can see her organized workshop from the retail area).
Hours: 10AM-2PM Monday, 10AM-6PM Tuesday-Friday, 10AM-4PM Saturday.
101 Church St, Abbeville, SC 29620
(864) 362-0555
Pendleton Farms: Vintage and antique home furnishings, plus foods from all over South Carolina and the US.
Hours: 10:30AM-5:30PM, Tuesday-Saturday
102 E Pickens St, Abbeville, South Carolina
(864) 366-0511
Belmont Inn: This independent hotel listed on the National Register of Historic Places shares 115 years of history with its guests.
104 E Pickens St, Abbeville, SC 29620
(864) 459-9625
Divine Your Space: Plants (with a nursery outside) and home décor. The shop hosts community workshops for crafts, paintings, and more. Helpful Hint: Call ahead and see if they have fun classes for your girlfriend getaway guests to join.
Hours: 10AM-6PM, Monday-Saturday
130 Trinity St, Abbeville, SC 29620
(864) 366-8463
Main Street Coffee Company: Local shop with coffee, pastries and sandwiches for a quick pick-me-up.
Hours: 7:30AM-9PM Tuesday-Thursday, 7:30AM-10PM Friday, 8AM-4PM Saturday
109 South Main Street, Abbeville SC
(864) 366-5010
Between Abbeville and Greenwood, you'll find plenty of options for dinner:
Dinner in Abbeville:
The Rough House: A local hot dog joint on the square that also serves Hershey's ice cream.
Hours: 11AM-4PM Monday, 11AM-9PM Tuesday-Saturday
116 Court Square, Abbeville, SC 29620
(864) 366-1932
Village Grill: Also on the Square, serving comforting American fare such as salads, sandwiches, pasta, daily specials, and prime rib, fried shrimp and salmon at dinner.
Hours: 11:30AM-2PM, 5:30PM-9PM Monday-Thursday, open until 10PM Friday-Saturday
110 Trinity St, Abbeville, SC 29620
(864) 366-2500
Dinner in Greenwood:
Fat Daddy's BBQ: a classic, award-winning SC 'cue stop. Try the traditional SC hash (a thick BBQ stew served over rice) as a side dish. (We think their take on banana pudding is life changing.)
Hours: 7AM-9PM Monday-Saturday
115 Hampton Ave, Greenwood, SC 29646
(864) 223-9111
Miss Ann's Fried Chicken: This place isn't fancy. Expect modest presentation with great, no-nonsense fried chicken.
Hours: 10:30AM-9AM Monday-Friday, 11AM-9PM Saturday
1032 Main St S, Greenwood, SC 29646
(864) 223-0537
Montague's: The swankier, special occasion spot in town.
Hours: 11AM-12AM Monday-Saturday
115 Hampton Ave, Ste N, Greenwood
(864) 223-1149
Carriage House Restaurant: Inn on the Square also offers dinner service at their restaurant. They execute traditional fare (steak, salmon, fried chicken) well with nightly specials and classic, seasonal desserts such as cheesecake, creme brûlée and sorbet.
Dinner Hours: 5PM-9PM Wednesday-Saturday
104 East Court Ave, Greenwood, SC 29646
(864) 330-1010
---
Girlfriend Getaway: SUNDAY
Start the day relaxing in bed, or get up early. Head to Aromas Village Coffee Shop for a lavender latte.
Hours: 6:30AM-9PM Monday-Friday, 7:30AM-9PM Saturday, 8AM-6PM Sunday
211 Hospitality Blvd, Greenwood, SC, 29649
(864) 396-3096
Brunch at Inn on the Square begins at 11AM, held in the ballroom of the hotel. Afterwards, stroll past some historic homes nearby or head to Lake Greenwood State Park to enjoy time, swimming, geocaching, or perusing the Civilian Conservation Corps Museum in the Drummond Center
Head home on Sunday afternoon, and enjoy the memories!
---
Pro Planning Tips:
Before you go, get appointments for salon/spa destinations lined up for Friday afternoon and/or Saturday morning before you come.
Call ahead to the Ben Mays Historic Site to arrange a group tour, too.
Use the coupons and deals highlighted in this article to save on money while you visit! You can also check out our other travel deals and packages.
Be sure to check out the Abbeville, SC #JustRight Travel Package to save on lodging, restaurants, shopping and more!