Abbeville is a small South Carolina town packed with big charm, and colorfully painted buildings blended with historic architecture, one-of-a-kind shopping, restaurants, and bakeries. Wander the streets before settling in for a show at the Abbeville Opera House, explore any of the 6 State Parks within driving range, or take a day trip to Greenwood, Edgefield, or another neighboring town full of its own unexpected wonders.  Abbeville County Historical Society maintains several historic sites and homes, open to visit, like the  McGowan, Barksdale, Bundy House, Burt-Stark Mansion, and Trinity Episcopal Church. If you are looking for a weekend getaway with far-but-not-too-far Southern Charm, Abbeville is a great place to visit.
Travel writer Lori Sorrentino also thinks so with her Abbeville profile.
Imagine how excited we were when the local businesses put together a package for visitors to get the most out of their visit! The package includes coupons to several lodging options, shops, restaurants, and local attractions for travelers to get the absolute most out of their stay. We are so pleased to spread the word on the Abbeville #JustRight Package. Here is everything being offered…
Belmont Inn-

This historic inn i

s located

 right on the

town

square in the heart of Abbeville.

With Package: 15% off published rack room rate. (Booking: 864-459-9625)
Sharon Manor-

Just three miles from downtown Abbeville, this bed & breakfast has spacious, homey rooms with breakfast always included.

With Package: 20% off a two-night stay.

(Booking: 864-378-9310)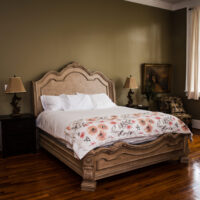 Veranda on Main-

 Relax and unwind on long classic

Southern porches (and a jacuzzi!) only a short stroll from Abbeville's downtown square.

 With Package: 1-night lodging for $109 without breakfast or $129 with continental breakfast, and an additional 10% off if staying 2 or more nights. (Booking: 864- 366- 9540)
JP's Food and Spirits- This restaurant rests underneath the Belmont Inn and makes for a good drink after a night on the town. With Package: free dessert.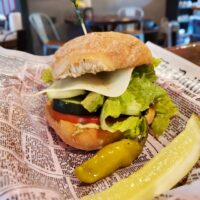 Blondies on the Bricks- This cozy sandwich shop boasts clever menu items all named after famous blondes.

 

With Package: 10% off meal and a free coffee.
Abbeville Massage Co- Family-owned massage therapy practice located in the heart of historic downtown Abbeville. With Package: $10 off pre-booked, pre-paid massage.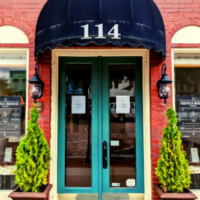 Abbeville Opera House-

This historic Opera house is a popular venue for touring musicians, comedians, and stage plays.

With Package: 2 complimentary tickets, redeemable for up to one year. Info on shows here.
Breezy Quarters-

Breezy Quarters handmakes their scented soaps, beard care, skincare, bath bombs, and other self-care goodies in the store.

With Package: 15% off whole purchase.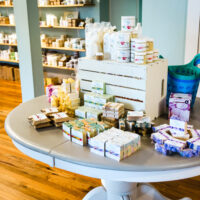 Jessica's Closet- Cute and comfortable Southern chic boutique! With Package: Free gift with purchase. 

Southern Succotash- Charming antiques, trinkets, frames, and other finds. With Package: 10% off whole purchace.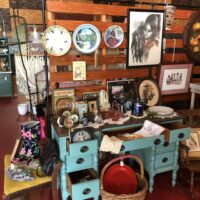 Square Dollars- Square dollars

are redeemable at several shops throughout the city.

With Package: $20 in Square Dollars. 
Redeeming the package is incredibly easy! To take advantage of all these offers, simply choose a participating B&B or Inn and call to book your stay. Let them know you are interested in the Abbeville #JustRight Package. You can pick up a goodie basket full of gift cards when you check in!

While you are in the area, be sure to check out more of our one-of-a-kind shopping, Greenwood Girlfriend Getaway guide, and other trip ideas on the Old 96 District website.
We hope to see you soon!