By Lori Sorrentino of Travlinmad
Isn't your heart in need of some good feels right about now? Aren't you just so ready to travel some place warm? Warm with friendly faces, freshwater lakes, comfort food eateries, and a cozy bed to welcome you. That's Abbeville, South Carolina, for the small town in us all.
Site of some of the most consequential events in American Civil War history (both the beginning and the end of the Confederacy), today there's more than history and quintessential southern charm for visitors to enjoy. 
Abbeville is fresh. 
PLAY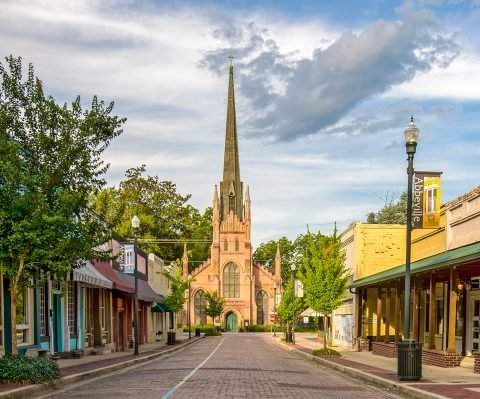 Stroll a bit around the town square and the spirit of restoration and promise is in the air. 
At the center of the town's renewal stands the stunning Gothic Revival-style Trinity Episcopal Church, currently undergoing a $3 million restoration. Adjacent to the church, the open-air Livery Stable is already a popular venue to tie the knot with its modern farmhouse feel and pretty market lights. When the church reopens, Abbeville's draw as the romantic wedding destination in upstate South Carolina will gain a significant cornerstone. 
Friends and out-of-towners gather at the Livery over tea cakes and farm fresh veggies on Friday mornings for the Abbeville Farmers Market — a good reason to start your long weekend visit on Thursday.
Stroll the quaint shops downtown by day, hunting for vintage and antique treasures at Crate and Quill Vintage Market and Southern Succotash.  Pendleton Farms has even more, plus a delectable food market that sells local food specialties from around South Carolina. 
You can even channel your happy place at Divine Your Space with a fun art class or crafts workshop for your garden. And when your inner Garden Goddess needs some pampering, head to Breezy Quarters for sublime soaps, soy candles, and nourishing body products — all handmade by the owner in Abbeville.
For live entertainment, the Abbeville Opera House is the hub of entertainment action and the place to catch a performance. From live music concerts to national comedy acts and talent competitions, the new line-up of shows is current and fun in a suitably nostalgic atmosphere — a real gem!
EAT
Early risers can get their first cuppa java at the Main Street Coffee Company, a friendly coffee house with a fabulous breakfast menu to boot. If you're out and about, Swartzentruber's Bakery just outside the downtown is worth a stop for homemade southern-style cakes and pies. You won't find a good coconut cake or blackberry pie like these! 
For snacks and lunch, the Village Grill gets top marks for fresh sandwiches and salads. Or grab a good old fashioned hot dog at The Rough House.
STAY
Adjacent to the Opera House and a short stroll from anywhere in town is a great place to overnight. The historic Belmont Inn has come a long way from its turn-of-the-19th-century moniker "Good Meals, Good Beds", though that's still what they're all about. 
Listed on the National Register of Historic Places, the 25 unique and elegant guest rooms are an excellent value, and a good choice for history buffs and independent travelers.
Add in creature comforts like hand-sewn quilts and locally-crafted soaps to the modern amenities like high-speed wi-fi and free charging for electric cars, and you've got the perfect weekend stay. 
Best of all, The Belmont Inn is super pet-friendly with an on-site pet grooming shop to really pamper your pooch — they'll love your dog as much as you do!
The in-house restaurant, JP's Food and Spirits (formerly Tinker's Alley), offers guests a lively place to gather after performances to meet the entertainers or gather with friends. All this charm will have you craving a sweet tea or Mint Julip, so do stay for A Simple Southern Sunday, their southern-style brunch with a twist.
The stately Veranda on Main is another good choice to stay in a quiet part of downtown with its sweeping verandas and charming good looks. You'll be tempted to sleep late — the beds are dressed in luxe linens and heavenly — but your morning coffee is just a few steps away on the porch before sitting down to a southern-style breakfast. 
With just four guest rooms, Veranda on Main offers a unique B&B experience with that personal touch.  It's close to Abbeville's historic sites and local attractions, and a perfect evening stroll home after dinner in town.  
For a unique stay in downtown Abbeville, the Sharon Manor offers hospitality in the historic former Sharon School. Guest rooms are comfortable, traditionally decorated and appointed with modern amenities. Plus, Sharon Manor also offers an elegant event space which can accommodate up to 150 guests. 
This home-away-from-home is the perfect setting for families looking to explore Abbeville or host a multi-generational gathering or special events.
If you're in need of a Reset and comfort weekend away, head to upstate South Carolina. The southern-style respite you're craving is in Abbeville.
Check out the Abbeville #JustRight Travel Package to save on food, shopping, and lodging during your stay!
——————————————————————————————————————
Lori Sorrentino is an award-winning photographer and freelance travel writer, who loves local food and slow travel. She shares Eat Local, Travel Slow experiences on her travel sites Travlinmad and Italy Foodies, and various online and print publications. When she's not traveling, she's at home in Florida writing about the Gulf Coast or at the beach. Follow Lori on Instagram @TravlinMad.