By Jason Barnette
South Carolina's "Freshwater Coast" is sixty-five miles of coastline along the Savannah River – and one of the best hidden gems of the Old 96 District. The tourism district comprises five counties, is filled with small, charming towns connected by two-lane roads. Life is a bit slower as nature and history abound at every corner – making it a perfect peaceful weekend getaway. 
From 1769 until 1799, the Ninety-Six District was one of seven judicial districts in South Carolina for thirty years. Originally designated during the provincial rule, the district was discontinued in favor of smaller counties in 1800. From that district sprang the counties of Abbeville, Edgefield, Greenwood, Laurens, and McCormick. 
Discover the things to do in the small towns – and one big city – of the Old 96 District as you plan your own itinerary for a weekend getaway.
McCormick – Population 2,783
In 1852, William Dorn struck it rich when he discovered gold from a mine he built in an unincorporated area of the South Carolina backcountry. In just a few short years, he had removed nearly $1 million worth of gold. In 1869, Dorn sold the mine to Cyrus McCormick, but McCormick never reaped any profits from the barren gold mine. By 1882, he started selling off the land that would eventually become the town of McCormick. 
At the Heritage Gold Mine Park, visitors can see the remnants of the original Dorn's Gold Mine while panning for their own gold. The McCormick Arts Center at the Keturah – locally called the MACK – is an art center and gallery displaying local artisans' work. Visitors can grab a milkshake made with antique machines across the still-active railroad tracks at Stroms Drug Store. Before leaving town, take a walk through Red Rooster Art & Antiques or browse for used books at Books on Main. 
At the edge of downtown, Dorn's Mill was built in 1898 and converted to a grist mill in the 1920s. Since then, the mill has produced flour, cornmeal, and other grains. The mill is frequently open for self-guided tours and special events, but it's a treat to walk the grounds and admire the beautiful architecture of the brick buildings. 
Nearby, Baker Creek State Park offers a small beach for swimming and a comfortable campground for overnight stays. Hickory Knob State Resort Park is one of the best parks in the state. Play a round of golf at the 18-hole Tom Jackson designed course, enjoy kayaking or boating across the 71,000-acre Strom Thurmond Lake, or enjoy skeet shooting or archery. Spend the night at the recently renovated lodge, or bring your own camper for a comfortable night at the waterfront campground.
Where to Stay in McCormick
Baker Creek State Park has a nice campground open seasonally for RVs and tents. Hickory Knob State Park features a waterfront campground, a lodge divided between several buildings, and cabins. 
Edgefield – Population 4,810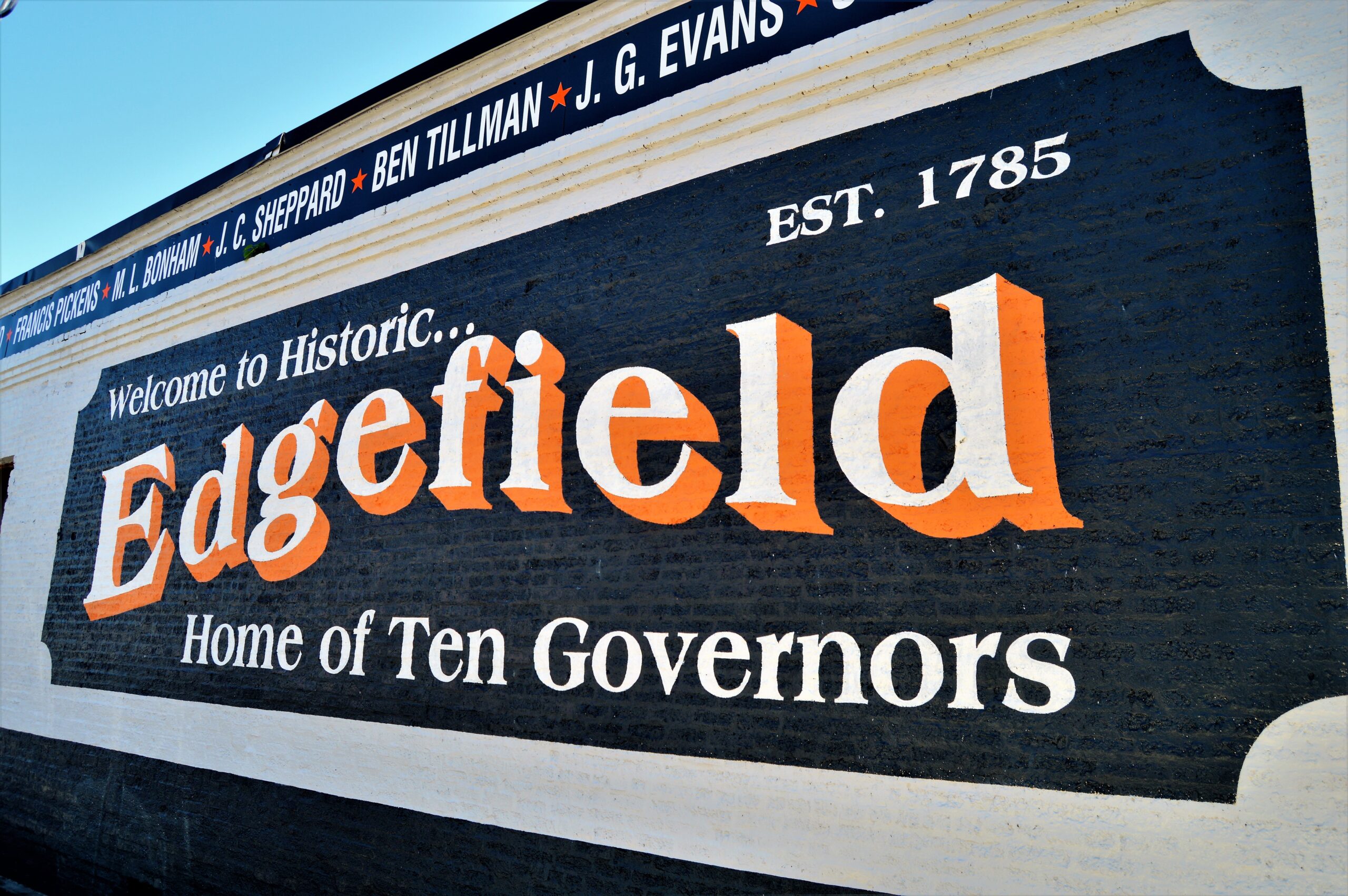 In 1785, Edgefield County was created as the Ninety-Six District was divided. The county was given instructions to build a courthouse and jail around a public square. The town developed around the square that is still a public meeting space today. 
The most interesting attraction in Edgefield is the Winchester Museum at the National Wild Turkey Federation. Founded in 1973, the NWTF is a non-profit organization devoted to conservation and education about wild turkey hunting. The museum is a fascinating exploration of its mission. Nearby, the Palmetto Shooting Complex is a thrilling way to spend a day skeet shooting or practicing your aim at a clay target shooting course. 
In the small downtown, the D.A. Tomkins Library is the defacto visitor center for the town, along with genealogical records and history books. At Old Edgefield Pottery, you're likely to find owner and master potter Justin Guy hard at work in the one-room shop. Then, head across the square to Carolina Moon Distillery to try some of their distilled spirits – and take home a bottle to enjoy later! 
Where to Stay in Edgefield
Isabella's Bed & Breakfast is located fifteen minutes from Edgefield in the small community of Johnston. The 1800s-era house features three distinct guest rooms, a covered front porch and balcony, and gorgeous architecture throughout the house. 
Abbeville – Population 5,014

Since the town was established in 1764, Abbeville has remained historically insignificant with one notable exception: it's the birthplace and final resting place for the Confederate government. Late in 1860, a meeting was held on "Secession Hill" to discuss South Carolina's secession from the federal government – one month later, the plan was enacted. Then, in 1865, Confederate President Jefferson Davis met with his cabinet for the final time at a local home and conceded defeat in the Civil War.
Visitors to the Burt-Stark Mansion can take a guided tour through the plantation house and learn about that pivotal meeting between Davis and his cabinet. Just a few blocks away, visitors can explore the impressive McGowan-Barksdale-Bundy House, an architectural gem of the town and home of the Abbeville County Historical Society. Built in 1888, the Queen Anne-style home features four floors – three of them open to the public. 
Abbeville's downtown is built around Court Square – the square is still wrapped by brick-laden streets. Beside the courthouse, the Abbeville Opera House was built in 1904 for the traveling road shows from New York City. The renovated performance venue features 218 seats with live shows, movies, and concerts year-round. 
Kindred Outfitters carries outdoor clothing perfect for long walks at the state parks throughout the Old 96 District. Urban 2 Country is a modern-day general mercantile with local artwork, grocery items, and home décor. At Crate and Quill, you can shop for antiques and fine craft gift items from owners who fell in love with Abbeville during a road trip! A short drive from the square, Breezy Quarters sells handmade soaps, skincare, and personal hygiene that will leave you smelling great the rest of the day. 
Looking for somewhere to eat? The Village Grill is one of the most popular places in town – comfortable booths and fantastic food made with local ingredients are a sure win. At Indigenous Underground, patrons can enjoy savory meals, cocktails, and desserts whipped up by Chef Trudy. The Rough House proudly boasts, "Hot dogs are the reason we've been in business for eighty-nine years!" The small hole-in-the-wall eatery on Court Square is a great place for a quick meal.
As you leave town, consider making a quick stop at Daily Bread Bakery for freshly baked bread, seasonal butters and spreads, and a large assortment of pastries to take home.
Where to Stay in Abbeville
With the #JustRight Travel Package, there are a few great places to stay in Abbeville and things to enjoy during the visit. 
The Belmont Inn is a boutique hotel featuring 25 guest rooms. Located beside the Abbeville Opera House, it would be easy to walk to restaurants, shopping, and house museums from the hotel. 
Sharon Manor Bed & Breakfast is located a short drive from downtown in a gorgeous old home. The individual rooms are exquisitely decorated with modern furnishings and hardwood floors. 
Veranda on Main Bed & Breakfast is a classic southern home with a covered front porch and balcony, hardwood floors, and beautifully decorated guest rooms. It's less than a mile from Courthouse Square, so that's either a short drive or an invigorating walk to shopping, dining, and museums.
Clinton – Population 8,380
When Scottish immigrant John Duncan arrived in what would become Clinton in 1752, he found only Cherokee natives and vast rolling hills. The town was initially called Five Points because of the intersection of four major roads and the railroad. Renamed after local attorney Henry Clinton Young in the 1850s, the town boomed with the development of mills and factories. 
In 1880, Reverend William Plumer Jacobs founded Presbyterian College. The small college with just over a thousand students still plays an essential role in the local community – and the campus is gorgeous to explore. Take a drive along Presbyterian College Road and enjoy a leisurely walk around Neville Hall. 
The historic district covers three blocks of late 19th century buildings around Broad and Musgrove Streets beside the railroad. Free public parking is available throughout the small downtown area – take a short walk around town to explore the window displays of local businesses. 
Just fifteen minutes north of Clinton, the Battle of Musgrove Mill State Historic Site preserves and interprets the site of a pivotal Revolutionary War battle. In mid-1780, a small group of Patriots commanded by Colonels Isaac Shelby and Elijah Clarke were moving through the countryside when they were discovered by a small detachment of British troops – leading to an interesting battle along a creek. Visitors to the historic site can see an interactive 3D display of the battle, walk a loop trail through the battlefield, and even see a small waterfall.
Laurens – Population 8,849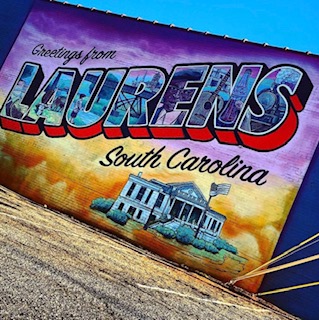 Laurens was established in 1785 when the Ninety-Six District was initially split into smaller counties. Like many southern towns, the town's early economy entirely revolved around cotton. But after the Civil War, it was one of the few towns to smoothly transition to modern textiles and continue to thrive. 
The small downtown is built around the Laurens County Courthouse – the third courthouse on the site initially purchased in 1792 for two guineas. Visitors can begin with an exploration of local history at the Laurens County Museum. Located downtown, the museum has three facilities: the original museum, the Witherspoon Building, and the Library and Museum of Revolutionary War History.
Free public parking is available around the square – take the opportunity to hop out of the car and go for a walk around the gorgeous town. At the Palmetto Brothers Dispensary, visitors can sample various craft beers from breweries throughout the Carolinas. Then, hop inside The Coffee Roost for a local coffee before you leave town. 
Get a table at Roma – an Italian restaurant that has operated in downtown Laurens for almost twenty years – and enjoy a delicious meal before leaving town.
Greenwood – Population 23,403
Greenwood is the "big city" of the Old 96 District. In 1852 – five years before the city was incorporated – the Greenville & Columbia Railroad was built through the backcountry of South Carolina. A business district grew up on either side of the tracks with rows of commercial and residential buildings separated by a wide highway. 
The Greenwood Museum – locally called The Museum – is a great place to begin exploring the city. The two-story museum features rotating exhibits, artifacts, and recreation of historic storefronts from the city's past. After a million-dollar renovation, the Greenwood Community Theatre reopened as the destination for live performances, concerts, and movies in an intimate setting. Next door, the Arts Center of Greenwood is the city's visitor center and exhibition space for local artwork. 
Driving out of downtown, the Railroad Historical Center offers a fantastic opportunity to take a guided tour through several railroad cars and learn about the history of railway traffic through the region. Emerald Farm is a family-friendly destination where visitors can see peacocks and goats while shopping for handmade soaps and antiques. At the Benjamin Mays Historic Site, you can learn about the history of the influential Civil Rights advocate, explore the small museum, and wander through his childhood home. 
Don't miss out on the entertainment with a night at the 25 Drive-In Movie Theater, one of only three drive-in theaters remaining in the state. Choose from three screens and double features on the weekends – and don't forget to get some food at the concession stand bordering on a full-fledged restaurant. 
You will never go hungry from a lack of options in Greenwood. Get your BBQ fix at The Carolina Tavern, Fat Daddy's BBQ, or Little Pigs BBQ Restaurant. Order a brick oven-baked pizza at The Mill House and then walk next door to Good Times Brewery to sample their craft beer. Kicker's Takeout offers savory food in a hole-in-the-wall setting – perfect for lunch – or you could try Polo's Restaurant for a more charming sit-down atmosphere.
Where to Stay in Greenwood
The Inn on the Square is the best boutique hotel in the Old 96 District – and one of the best in the entire state. Gorgeous, comfortable guest rooms offer a great place to stay in downtown Greenwood, complete with cooked to order breakfast in the morning. 
Lake Greenwood State Park features a small campground with waterfront sites perfect for RV and tent travelers. Also located on the lake, Lighthouse RV Park & Marina offers 55 RV sites and 50 boat slips to take full advantage of a getaway. 
Lake Greenwood Motorcoach Resort is exclusive to Class A and select Class C RVs. Nightly and weekly lots are available for rent with a bevy of amenities sure to make your getaway comfortable, safe, and memorable.
—
Jason Barnette knew at age 12 when his mother bought him a typewriter he would love writing stories. His first story was about Star Trek and he has been writing ever since then. He enjoys crafting a story with details and intrigue that inspire people to visit a destination.  He sprinkles in a bit of history, adds a list of things to do, and gives the reader an amazing experience. Road Trips & Coffee is his main avenue for sharing his thoughts. #GoForaDrive is his handle!