A drive-in movie, a jump in a lake, a downtown right out of Mayberry, old-timey train cars to ignite fantasies of long-ago rail travel, even a building that hosted Houdini and the Ziegfeld Follies. And a somber reminder of the early days of the Civil Rights movement.
We had no idea all this and more awaited on our first getaway to South Carolina's Old 96 District nor that our long weekend here would remind us of earlier days and carefree times.
First Stop: Abbeville
While our plan was to visit Greenwood, the Old 96 District's largest town (population of about 25,000), we quickly decided to add an overnight in Abbeville (about 5,000 people) when we spotted appealing accommodations online.
Talk about a throwback – not only the historic property, but trying to get there. Imagine, if you will, an era with no cell phone, no GPS. Such was our attempt to find the Belmont Inn on Pickens Street when our working Siri directed us to Pickens Creek Road and subsequently lost connection after announcing "your destination is on your left."
What we saw instead of a lovely large brick structure with welcoming porches and overhead fans was a two-lane blacktop buffeted by massive trees on both sides as far as we could see. We managed, though, laughing at how dependent we all are on our devices  "these days."
Back in "those days" in Abbeville, we would have stepped into the 1903 Eureka Hotel. In the 1950s it became the Belmont Inn.
In the 1900s this was, no doubt, a bustling spot near all-important train tracks. Here was the former Seaboard Air Line Railroad (1900 -1967), which then merged with rival Atlantic Coast Line to form Seaboard Coast Line Railroad. The portions here are still known as the Abbeville CSX Subdivision owned by CSX Transportation.
We imagine long-ago, well-dressed passengers stepping off the train platform with travel cases in hand and arriving at the Eureka. After a multiple-course meal, they would have made their way over to the Opera House. In later years, Vaudeville road-shows traveling between New York and Miami would be checking in at the Eureka – as Abbeville was the midway stop.
We explored the Belmont's throwback parlor and ground floor, white-tablecloth dining room and peeked into several smaller dining alcoves before finding our upstairs room via elevator. Warned at check-in of its slow speed, we assured the receptionist we didn't mind a slower pace – just happy not to haul the bags up stairs.
Our room with original plank flooring featured a king bed with antique, heavily carved headboard and white chenille bedspread though a thankfully updated bath. The flat-screen TV, left on by housekeeping, seemed out of place. We turned it off to leave the real world behind for a while.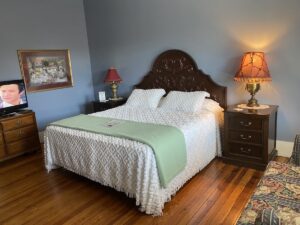 The inn overlooks Abbeville's main square. We stepped onto the street as late-day light gave it that magical glow filmmakers call "the golden hour."
The town looked like a movie set with colorful, well-kept buildings on both sides, a city center of brick paved streets and pull-in parking.
Signage noted keys sights like the Opera House (yes, Houdini and others performed here), a 1912 Humane Society Alliance Fountain with an upper bowl for horses and small cups for dogs and cats, an old iron bell used as a fire alarm back in the day, and a confederate monument.
Abbeville played a significant role in the start and end of the Civil War. A spot here called "Secession Hill" launched South Carolina's exit from the Union at a meeting Nov. 22, 1860. A month later, South Carolina became the first state to secede.
Near war's end, Confederate President Jefferson Davis fled Richmond, VA, and headed south, stopping for a night in Abbeville at the home of his friend Armistead Burt. It was there on May 2, 1865, in the front parlor of what is now known as the Burt-Stark Mansion that Davis officially acknowledged the Confederate government was dissolved. The site is open for weekend tours.
We read the historic marker at another at nearby McGowan-Barksdale-Bundy House, an 1888 Queen Anne beauty and home to Confederate Gen. Samuel McGowen.
We photographed especially beautiful churches, lit by that gorgeous setting sun, including the gothic Trinity Episcopal. With gorgeous stained glass and a 125-foot steeple, efforts are underway for extensive renovations.
Near the church, we spotted the beautifully restored Livery Stable, used now as an event space, but we easily imagined the activity after the Civil War when former planters operated it selling livestock year-round.
Some other dining options include Village Grill, Indigenous Underground and JP's Food & Spirits, the bar/restaurant at Belmont Inn's basement level – don't miss the cool Absinthe mural.
The next day we got inside some of the spaces we'd studied the night before. We had hoped the 1904 Opera House (now restored and on the National Registry of Historic Places) would have an evening performance but we were out of luck. Do check their schedule if you're in town as it is a lovely venue.
When the temperature hit 90+, we ditched our romantic idea of panning for treasure at Diamond Hill Gem Mine – maybe next time. Instead, we got great tips from Chamber rep Anna LaGrone to get out into the countryside in our search of cool waters. We learned of a new moniker sometimes applied to park-and-lake-filled Old 96 District: the Freshwater Coast. We add Lake Greenwood as a possibility on the next part of this trip.
Taking LaGrone's advice, we grab the swimsuit/sunscreen bags and head to Calhoun Falls State Park. Here we learn there are no natural lakes in all of SC, and this one, Lake Russell, is formed from one of the least-developed large reservoirs.
When we gleefully wade in at the dedicated swimming area with sandy beach, we feel like kids again at the local swimming hole. This, however, is high class by comparison with dedicated parking and a well-maintained building with changing rooms/restrooms.