Part 2 of 4
(In Part 1, we noted that Old 96 District transported us baby boomers to a simpler time. Our first trip to the area started in Abbeville and continued in Greenwood).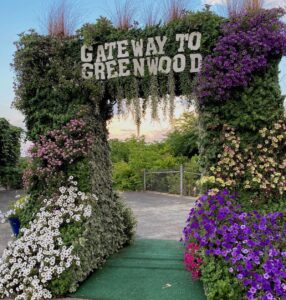 Our original Greenwood itinerary might have coincided with the city's annual, well-attended Festival of Flowers, in its 55th year.
A need to reschedule, however, delivered the delightful news that the festival's topiaries were still on view and "in good shape." Had we waited a bit, though, there still would have been a big festival to enjoy: July's BBQ & Blues Festival of Discovery, for instance. (Other warm weather events in Old 96 District, which includes Greenwood, Abbeville, Laurens, Edgefield and McCormick counties, include a peach festival and a catfish festival. This is a festive area.)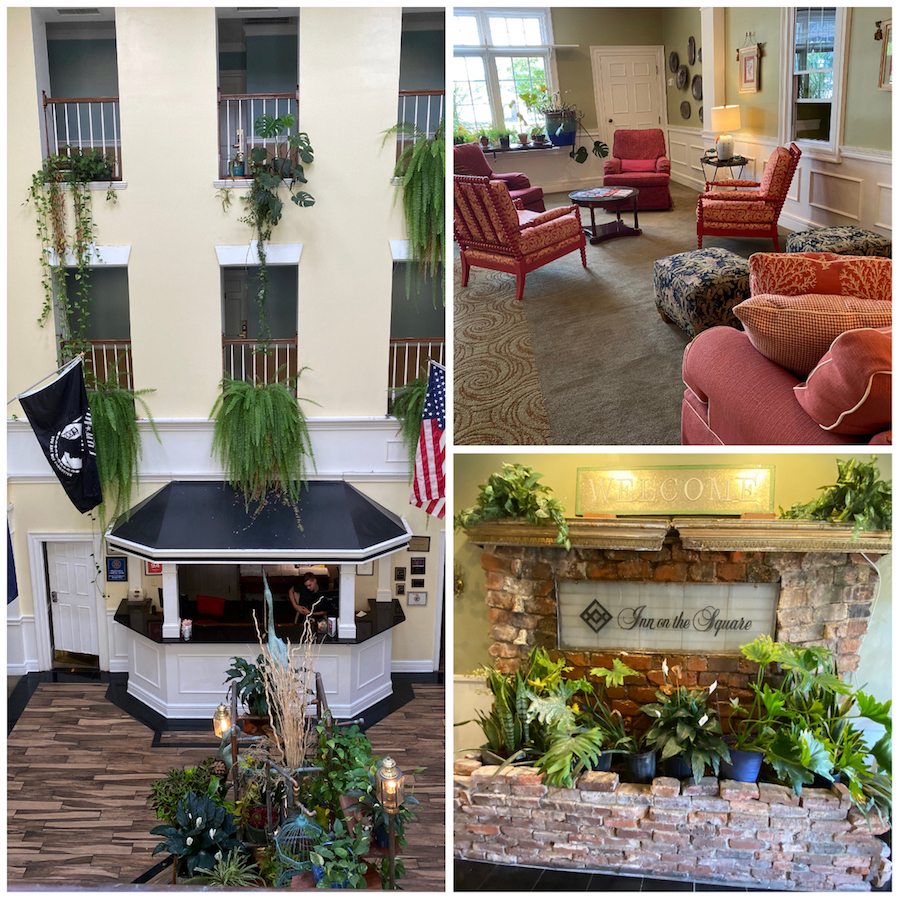 Arriving directly after our swim at Calhoun Falls State Park, we eagerly checked in at the most popular spot for downtown accommodations, the Inn on the Square. Its two-story main atrium, colorful attractive furnishings, the array of plants and even an indoor water feature immediately impressed us.
A standout was the made-to-order, complimentary breakfast that offered a nine-item menu (you pick four) plus two daily specials to choose from such as blueberry pancakes or eggs benedict.
Fueled for our day and our topiary map in hand, we started our hunt for the more than two dozen topiaries, most located along either side of Main Street. Bonus: We got in a good bit of walking and worked up an appetite. (More on that in a bit.)
At each topiary stop, we found a delightful, often whimsical, creation made of moss, flowers and other greenery — from a platypus or flamingo to a mermaid or alligator and much more. Sports teams were represented by a bulldog, a tiger, a gamecock, a bearcat. There was a dinosaur strategically placed by The Museum that happened to have a dino exhibit underway.
Near the end of our two-hour trek, we spotted a Jeep transformed into a "plant-mobile" covered in greenery. We delighted at the small pond with running water at the Visitor's Center where a closer look revealed topiary ducks and turtles and monkeys hanging from overhead branches – critters so cute we had to videotape them.
Another discovery was the pollinator garden near a large floral, overhead arched, selfie spot that spelled out this was the "Gateway to Greenwood." The garden was bedecked with two large giraffes and a gazebo.
Museums and Art
In between photographing topiaries, we especially enjoyed the juried art show exhibit inside the Arts Center of Greenwood, also home to the Visitor's Center. The show is held annually in conjunction with the Festival of Flowers. This year's attracted 280 entries from 51 South Carolina artists; 71 pieces were chosen for exhibit inside the stately structure that some still call the Federal Building.
Next up was the The Museum – yes that's its name – showcasing local history and, during our visit, an interactive dinosaur exhibit and activities for the young ones. Staff were super friendly and helpful gleefully offering dino stickers and hand stamps.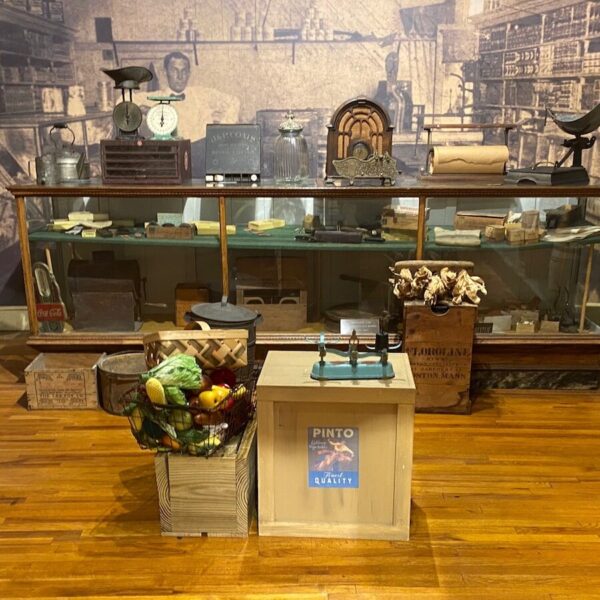 A Heartfelt Endeavor
Over our second day's breakfast, VisitGreenwoodSC's Executive Director Kelly McWhorter told us about a heartfelt endeavor at the 300-seat Community Theater, that building dating back over 100 years. The Penguin Project of live theater performances features developmentally challenged actors aided on stage by assigned assistants to fulfill their dreams of staring in an on-stage musical.
The project website explains: "The origin of the name 'Penguin Project' comes from the unique characteristics of penguins. They are extremely playful and curious, and work well together. More importantly, they have a 'disability' that distinguishes them from other birds—they can't fly. Instead, penguins waddle and toboggan on their bellies over the snow, and are excellent swimmers in the water. So like our young artists, they have adapted to the challenges of their environment, and have not allowed their unique difference to interfere with their lives."
Ms. McWhorter said the shows are generally sellouts.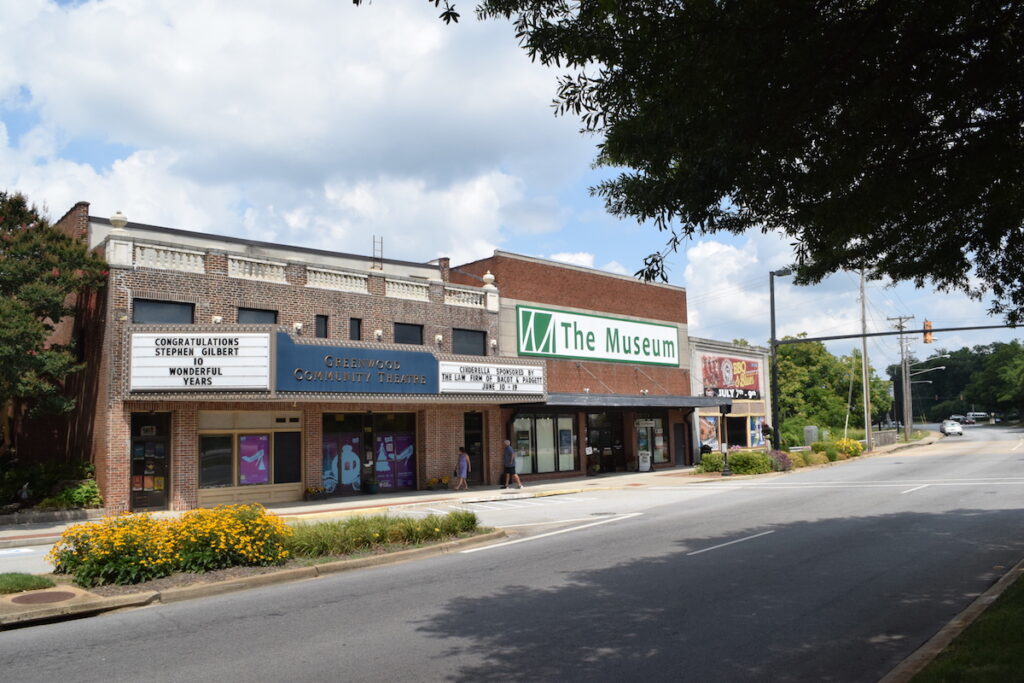 Downtown has a wide variety of shopping, snacking, dining options. We found an interesting shop also promoting a message. Two Girls and an Oven is a non-profit featuring mouth-watering baked goods, books, small gifts and kitchen items all to benefit the South Carolina Orthodox Christian Foundation.
For lunch we sampled the family-owned Buenavista Cuban Cafe. The mood inside couldn't help but be upbeat with bright décor, mementos of Cuba lining the wall and on the overhead TV, Mark Anthony swaying his hips in a music video.
The owner's smile lit up the room, which is long and narrow with only a few inside tables plus bar seating. There's additional patio seating out front. Small, welcoming, tasty. Fellow diners topped off their meals with a Cuban coffee.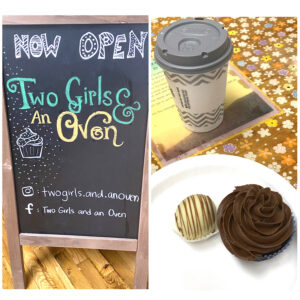 Another option is Break on the Lake, an eatery overlooking Lake Greenwood popular with boaters who tie up at the adjacent dock. We made the drive out to see the lake and walked along the secluded shore, taking in the view.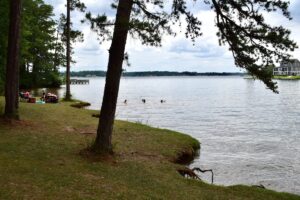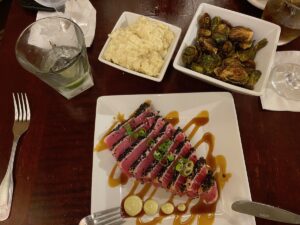 Back in town, in the mood for a bit of upscale dining, we made the short drive to Montague's. We were happy with our choices of oysters rockefeller, sesame seared tuna, chicken Ellen, smoked gouda mac-n-cheese plus amazing fried brussel sprouts. Our server was friendly, and the separate bar was lively. (In Part 3 of this series, you'll read about another upscale dining option.)
We heard much buzz over the brick oven pizzas at The Mill House, so much buzz in fact that we weren't up for a 45-minute wait for our next-day lunch so we walked down the street to Kickers, recommended to us by folks at The Spa on Maxwell who promised it was a locals' favorite, the kind of spot we like to support.
We like a town where business owners lift up each other. Good job, Greenwood.
If You're Going: There's a wide variety of accommodations in Greenwood. Old 96 District, includes Greenwood, Abbeville, Laurens, Edgefield and McCormick counties and is promoted by the Old 96 District Tourism Commission.
(Next Up: Railroad History and a Drive-In. Text and Photos By Kathy M. Newbern and J.S. Fletcher. Other stories by travel writers J.S. Fletcher and Kathy Newbern can be found at FletcherNewbern.com/blog)