After exploring the topiaries from Greenwood's annual Festival of Flowers and stopping by The Museum and the Arts Center of Greenwood, we drove over to the The Railroad Historical Center established in 1970.
Trains, especially those with large smokestacks and sleeping cars, can evoke romantic fantasies. The railroad center is a place where your imagination can take over. Our visit had us remembering cool train movies like Silver Streak (1976), Throw Momma from the Train (1987), Derailed (2005), Transsiberian (2008), and Murder on the Orient Express (2017).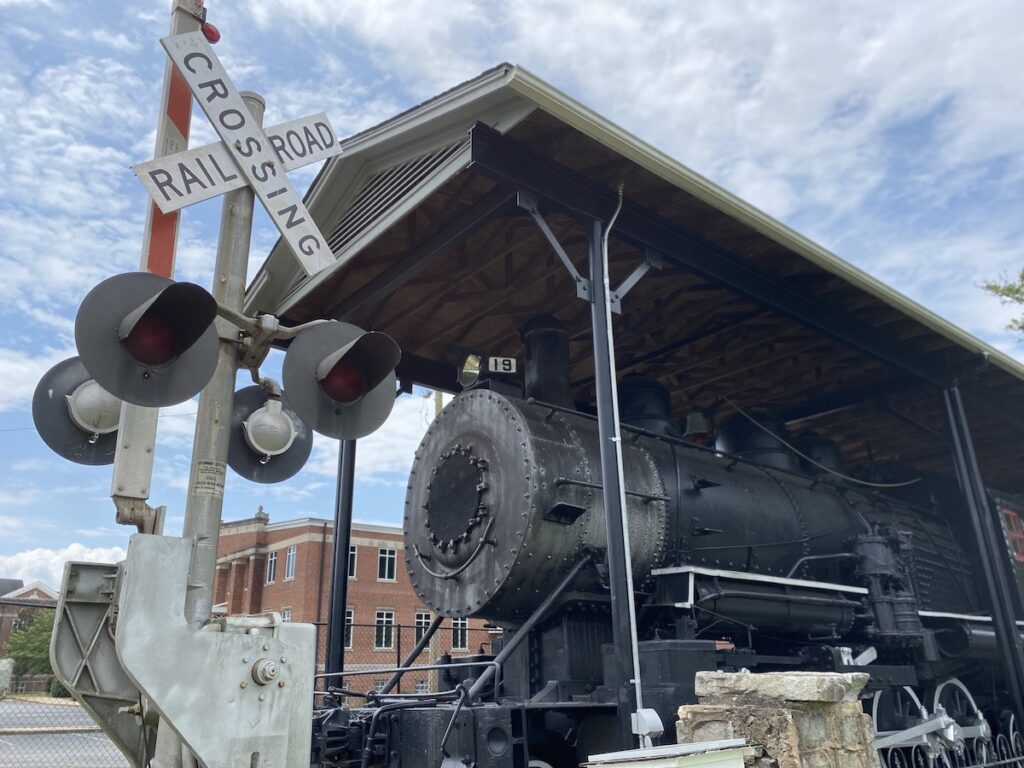 The site centerpiece is the Rockton-Rion 19, a black behemoth steam locomotive that's entryway to the attraction. Built in Philadelphia, here in Greenwood it hauled the South Carolina state stone, blue granite, from Rion Quarry and Anderson Quarry.
Visitors can step aboard to walk through or take a guided tour of the lineup of passenger cars, dining cars, the kitchen, sleeper cars with berths used in Pullman Standard cars, a caboose, and restrooms. Details are spot-on from upholstery, to linen, to kitchen utensils, even the artwork on the walls. In addition, the site itself includes a water tank, tool shop and depot.
Seeing the dining car set for a romantic meal with white tablecloths, wine glasses and cutlery, we envisioned ourselves back in the era of luxe train travel, tuning into the chug of the engine, wheels on tracks and the occasional screeching whistle.
If you like trains, you'll leave with a smile. We did.
There's a Drive-In
Since the theme of this series is a throwback in time, we were fully on board for date night at the 25 Drive In Movie Theater billed as 77 years in the making.
In the 1950s, there were over 3,000 drive-in movie theaters across America; today there are 300-some, and South Carolina has three of them. We were excited to experience this one which opened in 1955.
The experience hasn't deviated too much from those good-old days, except the corded speaker box has been replaced by tuning into a channel on your car radio. A jazzed-up concession is touted for food so good that our contacts advised we show up early enough for dinner before the double feature.
Yes, they offer a double feature with first-run movies, shown on each of three screens, and it only costs $10 per person. For our visit, we chose Top Gun: Maverick and Jurassic World: Dominion.
Just like in 1955 (or so we imagine) action-adventure and romance permeated the night air and cuddling while you watch the silver screen remains as American as popcorn and a soda.
A Rookie Mistake
No mention of visiting Greenwood is complete without recounting the story of Dr. Benjamin May, the proclaimed father of the Civil Rights movement and a mentor to Dr. Martin Luther King Jr.
The historic preservation site honoring him includes a museum and replica of the schoolhouse he attended. He was born here in Greenwood County in the Epworth Community, and that childhood home, a simple cabin, has been moved here to the site.
The museum showcases highlights of Dr. Mays' life from high school to South Carolina State College and through his presidency of Morehouse College from 1940-1967.
We, however, made a rookie travel mistake by assuming the site would be open on the weekends. It is not, but we did drive by to pay respects at this stop on the U.S. Civil Rights Trail. The site is open Mon.-Tues. 9 a.m.-12:30 p.m and Wed.-Fri. 9 a.m.-2:30 p.m. and other times by appointment.
There's also a Military Museum for a return visit.
Old Cars Bid Farewell
We couldn't have planned a more fitting end to our long weekend in Old 96 District. Our final night, we dined at small but refined Pascal's Café & Grill delighting over our choices of crispy sea bass and Duroc pork – a locals' favorite.
After returning to the Inn on the Square, we went out for an evening walk, and there discovered an antique car show near us.
Area clubs and private collectors often meet up on weekends to show off and share stories of their prized possessions from the past. We oohed and aahed over teal- and orange-colored mighty machines from Detroit's heydays, hot rods and appealing convertible. A few drivers rolled out bidding good-bye gunning the carburetor and daring to put down some rubber.