Part 4 of 4
(In Parts 1, 2 and 3 in this series, we noted how Old 96 District transported us baby boomers to a simpler time. Our first trip to the area, started in Abbeville and continued in Greenwood.)
We devoted part of our second day of this first Old 96 District visit treating ourselves to some spa pampering.
From the street, The Spa on Maxwell looks small, but don't let its size fool you.  This medi-spa delivers in a large way. Aesthetics and wellness are its focus, and co-owner Janie Haynes explained that focus is about to grow even larger.
The current location has eight treatment rooms and 15 staffers including aestheticians, a cosmetologist and masseuses, with Haynes herself also delivering services thanks to her nurse practitioner status and former work in hospital cardiac and ICU care.
Haynes shared the news that she and her partners are planning to open a 6,000-square-foot Wellness Center in Spring 2023. Plans include providing services of a nutritionist, physical trainer, yoga, self-defense instruction and expanding to more booths for their popular light and salt therapies at the current location.
For our visit, Fletcher and I opted for separate 60-minute Swedish massages. Normally, we choose the romance of a couple's massage, but since we booked fairly last minute, we were thankful they could squeeze us in separately with back-to-back appointments.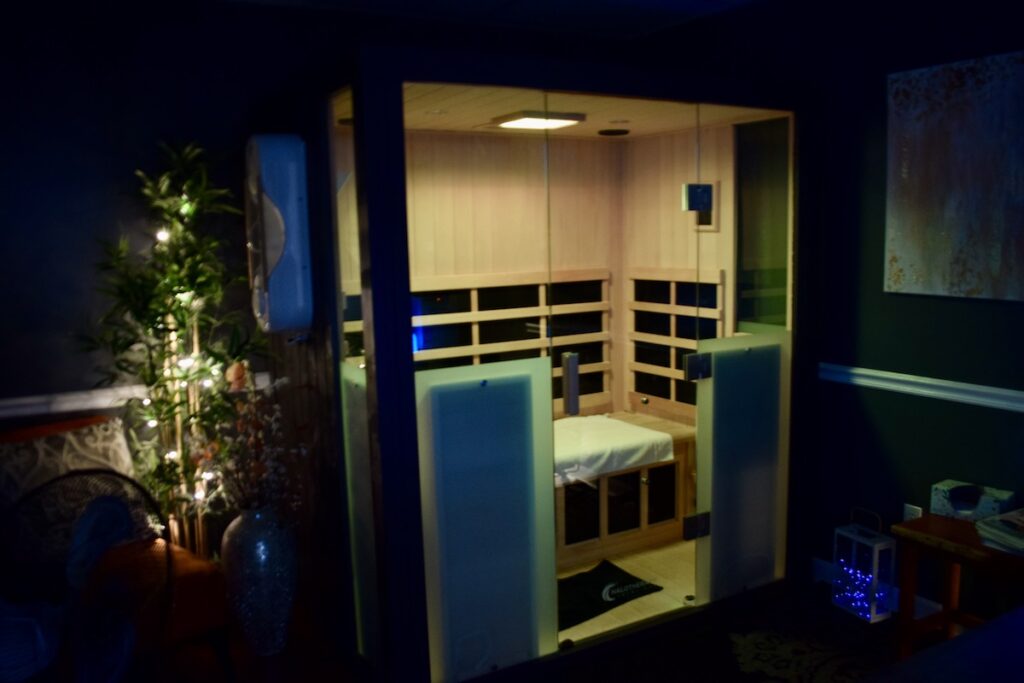 Wellness Booth
Beforehand, though, there was a quick tour that included a peek into the Wellness Booth room where light and salt therapies are delivered. Among the two dozen or so benefits our guide shared about those treatments are that they can stimulate circulation; lubricate joints; stimulate skin cells and muscle cells; reduce inflammation; address ocular fatigue; improve digestion and of course promote relaxation.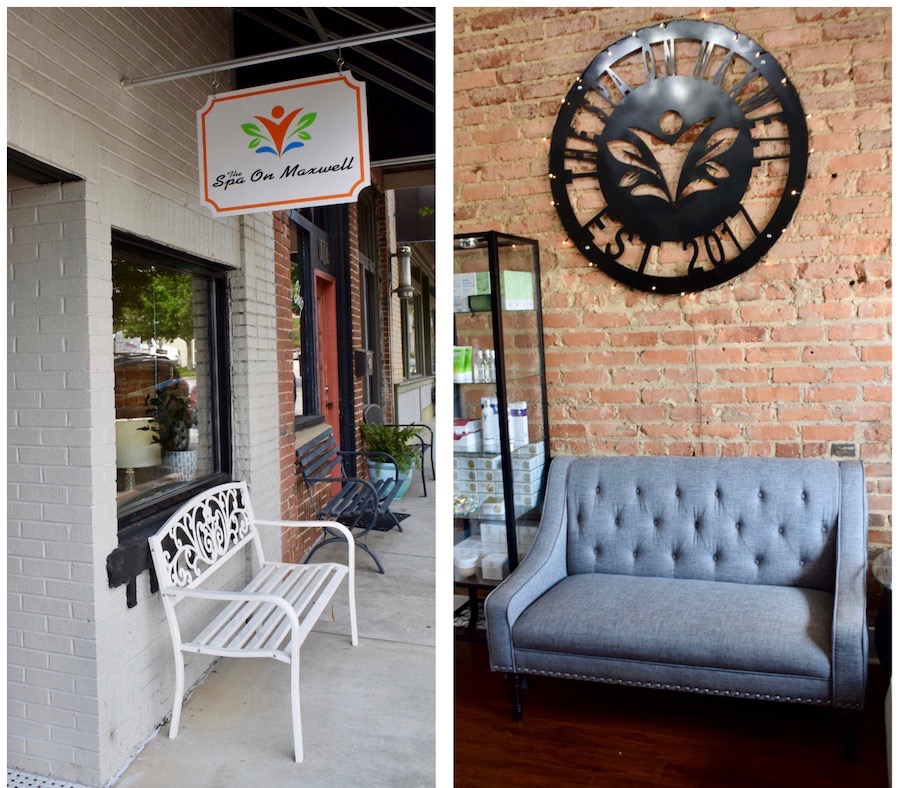 A monthly $95 membership includes one spa service; three face light therapy sessions weekly; three 20-minute Wellness Booth sessions weekly; and discounts on retail items, neurotoxins, dermal filler and a free monthly gift such as a Vitamin C serum, lip balm or face mask. Plus there's a giveaway drawing monthly for members.
Haynes declares, "They're kind of like family, our members." She's been in Greenwood since 2000 and says the friendly town quickly adopted her and her spa, which has operated since 2017. She rewards her employees annually with a nice working vacation focused on advances in the industry.
Really Great Massages
Our masseuses were Uriel and Michelle. Both did an outstanding job.
The massage rooms are welcoming, with either one or two massage tables, and each is especially roomy and comfortable. Low lighting provides great ambience with a flickering water candle (battery operated) and aqua-colored infuser as well as the kind of soundtrack that doesn't distract.
Our masseuses did a good job of listening to what areas especially need work and made sure to check in on comfort and pressure throughout the experience. They delivered expert moves and oh-so-heavenly warm towel touches.
You'll be amazed at how quickly the hour slips by and like us, won't want to get up off the table and back to the real world. (For a more in-depth description of our spa experience, visit YourSpaReport.com here.)
Wide Range of Services
Spa of Maxwell's services menu is quite extensive including waxing, hand and foot therapies like soaks and massages, eyelash treatments, and the Wellness Booth with those infrared and light therapies. There's also a nail salon area.
Therapeutic facial offerings include:
Lift & tone anti-aging
Renew & resurface
Restore & relax
Purifying (for acne)
Hydrafacial – both express and elite
Classic facial and
Magic wand.
There are also body scrubs and wraps plus 10 types of massages:
Mother's
Swedish
Deep tissue
Custom
Hot stone
Hot bamboo
CBD infused
Essential oil infused
Sports therapy and
Reflexology
If You're Going: The Spa on Maxwell is at 128 Maxwell Ave., Greenwood, SC; phone: 864-993-3450. Learn more at TheSpaOnMaxwell.com. Other spa stories by travel writers Kathy Newbern and J.S. Fletcher can be found at YourSpaReport.com.