Old 96 District is home to 6 of South Carolina's State Parks. We're proud of this for a lot of reasons, and each one has its own distinct experience. When visiting our State Parks for the first time (or even shaking things up on a return visit,) deciding where to start can be a tough challenge! We're hoping this helps some; here are 6 ways (out of many) to enjoy Old 96 District's 6 State Parks:
1. Camp with a view
It's one thing to camp under the stars, and another to camp under the stars and wake up to a lake view. Hamilton Branch State Park boasts some breathtaking campsites, most of them with A+ scenery right outside the tent. For those wanting something a little more snug, they also offer campsites in cozy coves and nooks. We'll hazard the sunset from this campsite over any other sunset in South Carolina.
2. Hike the trails
Old 96 District boasts over 250 miles of hiking and biking trails, many of which are connected to our state parks. With so many routes to choose, it's easy to find something that suits your style. Here are our top ten favorite trails, but also be sure to check out our complete guidebook.
3. Dive into a lake
Each State Park in Old 96 District has some kind of water feature; most of them touch one of our three lakes! There's a lot more to do than just camp beside them. Catch some fish, go for a swim, or take a boat onto the water and go water skiing!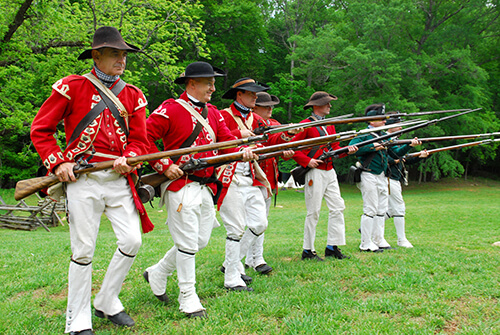 4. Make it educational
The buck doesn't stop with just nature. The Battle of Musgrove Mill State Historic Site– as you might guess- earns its name from a Revolutionary War battleground. Visit historic landmarks nestled within the grounds of the parks, or go on a guided ranger tour for all the expert info.
5. Go glamping in a cabin
Many people crave an outdoor getaway, but not the hassle of a tent. Hickory Knob State Resort Park offers amenities like group cabins and even hotel-like suites on a poolside! With options to choose from, you can spend the night the way you feel comfortable with and still reap the benefits.
6. Discover a new hobby
Vacation is the best time to try something new! Take up golfing at Hickory Knob's full 18-hole course, or shoot skeet for the first time. Maybe visiting each of SC's State Parks is your new hobby, as you take up the challenge to become an Ultimate Outsider and visit all 47 parks throughout the state.
Of course, there are as many ways to enjoy the Old 96 District's State Parks as there are people who visit them. Everybody brings their own unique flavor to the experience, and we hope we can help you find your passion for our outdoors!