Lynn & Cele Seldon (Seldon Ink)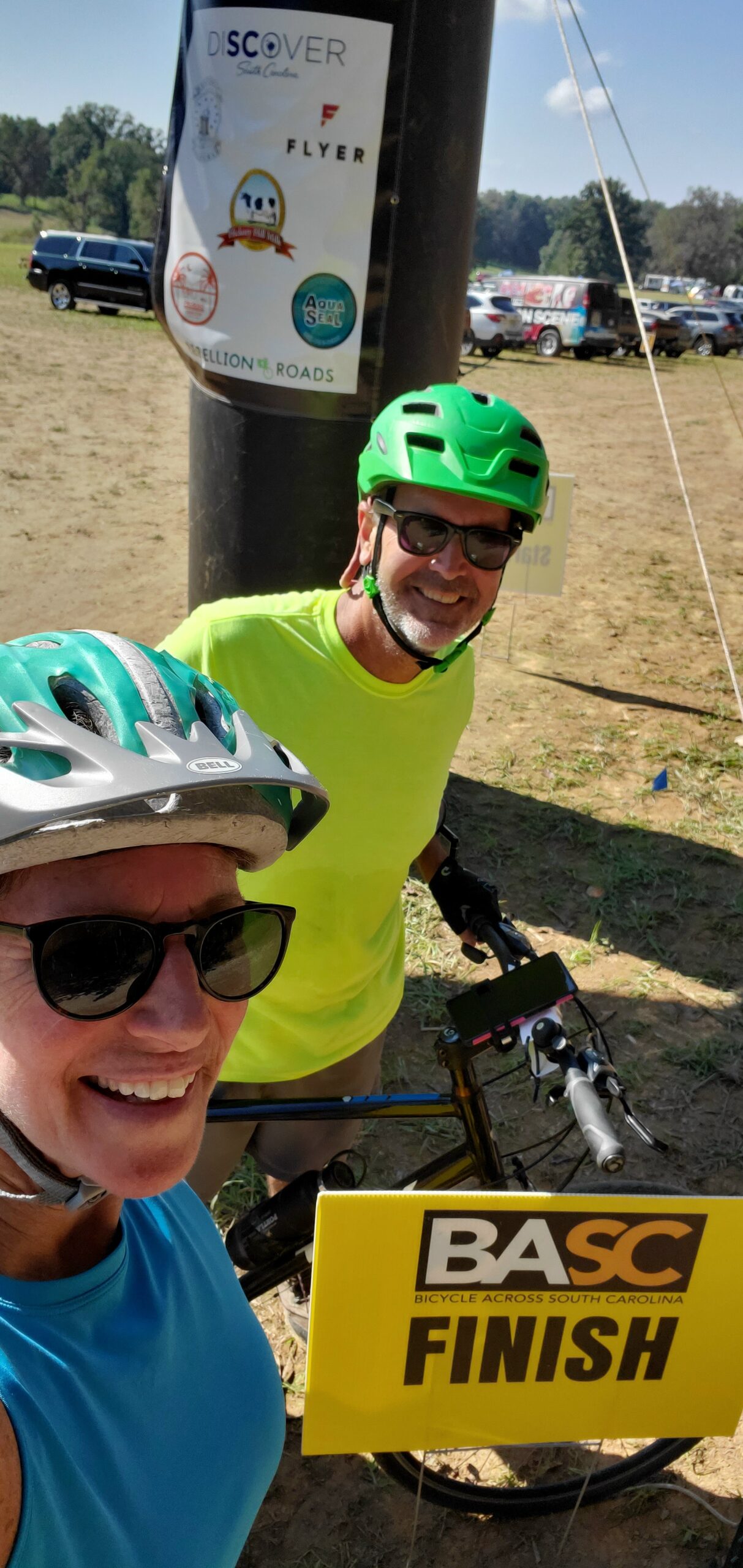 Well, Day One of Bicycle Across South Carolina (BASC) 2021 is in the books, and it's already been quite the ride for us in the historic area of South Carolina known as the Old 96 District. 
With three days of varied bike rides from Friday to Sunday, BASC officially began for us on Thursday evening at Hickory Hill Milk, with rider check-in and orientation, lawn games, live music, a convivial happy hour, dinner (yummy pot roast, mashed potatoes and gravy, seasoned green beans, and Dutch apple pie from friendly BASC Basecamp caterers, Delectable Delight, from Edgefield), and even a great presentation called "How to Backpack Across America." It was fun to chat with past riders and those, like us, trying BASC for the first time.
Our Old 96 District adventure actually started Thursday afternoon, when we stopped by the quaint town of Edgefield, which was on our way from Beaufort to BASC Basecamp. Our first stop was for lunch at Old Edgefield Grill, which is located in a 1906 Victorian-style house. The varied burgers and whatever is on special that day (ours was a tasty Chicken Marsala) are highly recommended.
Other quick stops before heading further north included: TLC Confections & Gifts for dessert ("where no crumb is left behind"); Old Edgefield Pottery* (where one side is a fascinating pottery museum and the other side features their original wares for sale); truly unique shopping (and ice cream at The Edgefield Creamery) at August & House; Carolina Moon Distillery (yeap, there's a tasting room!); and the National Wild Turkey Federation's Winchester Museum (home of the world's largest turkey call and much more). While in town, we also made a dinner reservation at a brand-new Edgefield restaurant, Christine's Farm to Fork, which looks like it's going to be a great addition to the Old 96 District dining scene.
  Now in its third year and with a new format (participants are based in one place the entire time), BASC is organized and sponsored by The Post & Courier. Cyclists get to choose a "short" or "long" ride each day, with all of the loop rides featuring both pavement (about 20%) and dirt and gravel portions (around 80%), with full medical and mechanical support. We're both celebrating our 60th birthdays this year and we're generally "flatlander" cyclists (we live on Beaufort's bucolic Spanish Moss Trail), so we opted for the short rides of 24 to 31 miles each day.
This year's BASC Basecamp is Hickory Hill Milk, which is situated on quiet Faulkner Mountain Road about 15 minutes north of Edgefield. We actually pursued a "training" ride there a few months ago and enjoyed a fascinating tour of their modern milking operation. The fourth-generation state-of-the-art dairy farm features tours and an honor system for buying milk and famed Clemson Blue Cheese (which is made with Hickory Hill milk). We finished our training ride with a pint of cold chocolate milk, of course.
The modest registration fee (participants can opt for one, two, or three days of riding and about 350 participants are expected this year) includes camping (more on that later), live music, farm tours, locally-sourced food and beer, campfires, and more. After decades of mostly enjoyable tent camping across the country, we now opt for a hot shower or bath and a soft bed after a day of cycling or, well, anything. So, we checked into Inn on the Square in bustling Greenwood Thursday night, just 30 minutes northwest of Hickory Hill Milk. We stayed there after our training ride and couldn't wait to return.
After we enjoyed a comfy night's sleep, we headed back to Hickory Hill Milk for the Day One ride and more. Each pre-ride morning at BASC Basecamp included yoga and breakfast, followed by an 8am start for the long ride and a 9am start for us and others choosing the short ride (which was 24.2 miles for Day One, including a 1,132-foot change in elevation (which definitely provided a bit of a challenge for these two South Carolina Lowcountry flatlanders).
That said, we loved the Day One Ride through the Old 96 District's rural and agricultural landscapes, including lots of off-pavement traffic-free riding, and we're already looking forward to the next two days of rides (31 and 30.4 miles, respectively, with a bit more elevation gains on both days, which we're now more prepared to tackle).
The rest of our Day One included a fun celebratory lunch back at BASC Basecamp (tasty tacos), post-ride yoga, lots more time to talk to other cyclists, and then a hot shower back at Inn on the Square. We then headed ten minutes east of Greenwood to 96 Pecan Company near, appropriately enough, the town of Ninety Six. Friendly owners, John and Charlotte Murray, offer pecans in more than 20 varied sweet and savory flavors and after tasting almost every kind, we purchased several bags to enjoy back on the coast.


Day One continued back at BASC Basecamp that evening, with a farmers market highlighting local produce and more, lawn games, live music, another happy hour, and dinner (featuring lots of Delectable Delight's delicious spaghetti to help with our carb loading). When the campers headed to their tents and RVs, we went back to our bed at Inn on the Square.
Bicycle Across South Carolina has been on our South Carolina bucket list since we heard about it in 2019. That bucket list also includes visiting all 47 South Carolina state parks, through the state's Ultimate Outsider program, as well as eventually traversing every mile of the still-growing Palmetto Trail. 
But first, thanks to BASC, it's time to ride on, South Carolina-style. Standby for a combined report on Day Two and Day Three.
—
Lynn and Cele Seldon (Seldon Ink) are participating in their first Bicycle Across South Carolina (BASC) in collaboration with the Old 96 District and BASC.
*Updated 9/27/2022: Justin has recently shut down the Old Edgefield Pottery studio inside of Edgefield's City limits and is focusing on his "country studio" that is located near Bettis Academy. The studio will be open periodically throughout the year for openings and events so if you would like more information on these you can check out his page on Facebook or at www.oldesgefieldpottery.com Justin notes that they are still in the transition stages currently and plans to have more capability to do online sales and open studio events closer to Christmas. Justin can also be reached by email at guypottery@com.