Lynn & Cele Seldon (Seldon Ink)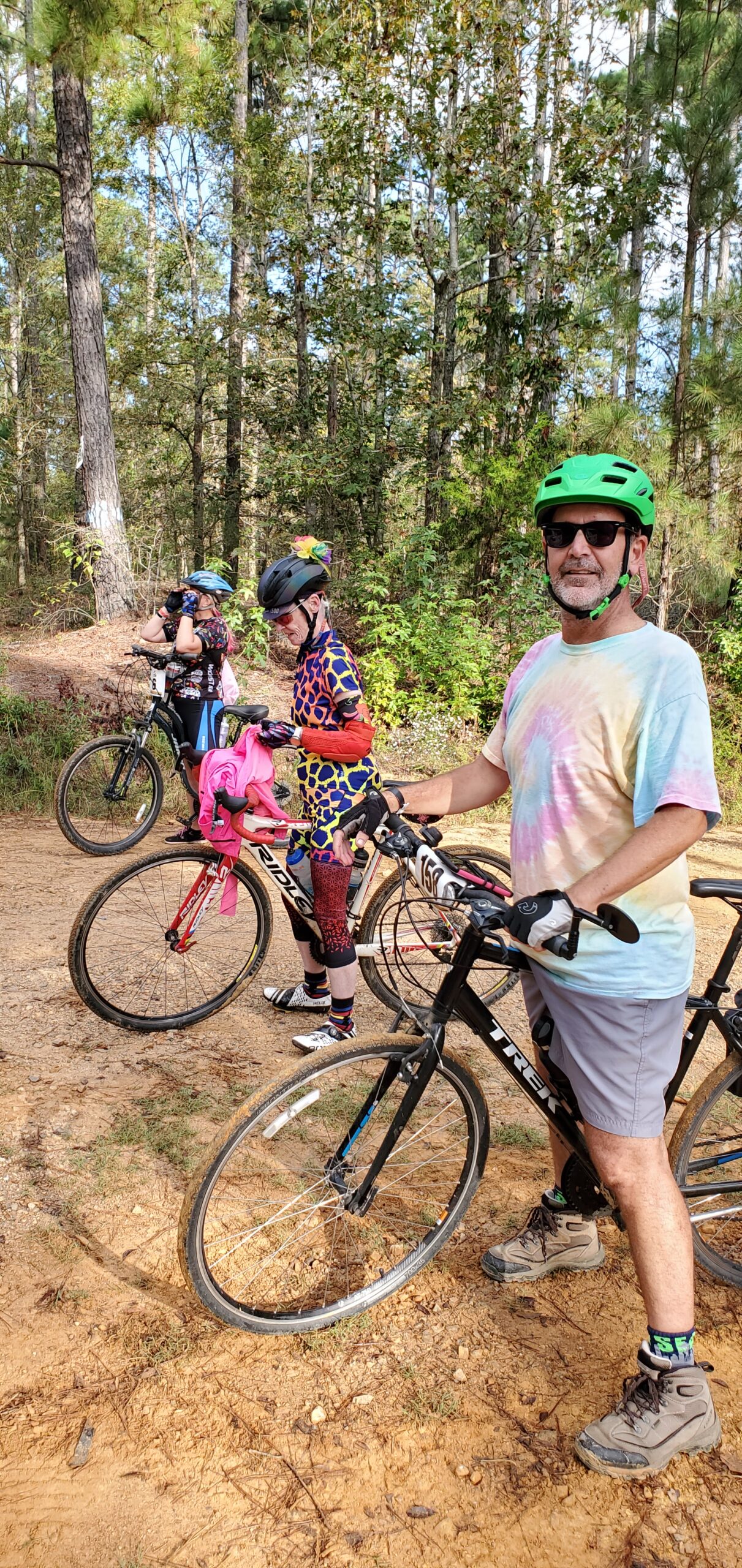 Bicycle Across South Carolina (BASC) 2021 ended on Sunday with a celebratory lunch, happy hour, music, and more after the Day Three ride, and it was quite the ride for these Lowcountry flatlanders in the historic area of South Carolina known as the Old 96 District. 
As mentioned in our earlier feature, BASC is organized and sponsored by the The Post & Courier and is in its third year, with a new format (participants are based in one place the entire time). Cyclists get to choose a "short" or "long" ride each day, with all of the loop rides featuring both pavement (about 20%) and dirt and gravel portions (around 80%), with full medical and mechanical support. We are both celebrating our 60th birthdays this year and we're generally "flatlander" cyclists (we live on Beaufort's bucolic Spanish Moss Trail), so we opted for the short rides of 24 to 31 miles each day.
This year's BASC Basecamp was Hickory Hill Milk, which is situated on quiet Faulkner Mountain Road about 15 minutes north of Edgefield. We had actually pursued a "training" ride there a few months ago and enjoyed a fascinating tour of their modern milking operation. The fourth-generation state-of-the-art dairy farm features tours and an honor system for buying milk and famed Clemson Blue Cheese (which is made with Hickory Hill milk). We finished our training ride with a pint of cold chocolate milk, of course (as we did our Day Two ride as well!).
The modest registration fee (participants can opt for one, two, or three days of riding and about 350 participants are expected this year) includes camping (more on that later), live music, farm tours, locally-sourced food and beer, campfires, and more. After decades of mostly enjoyable tent camping across the country, we now opt for a hot shower or bath and a soft bed after a day of cycling or, well, anything. So, we based ourselves at Inn on the Square in bustling Greenwood Thursday night, just 30 minutes northwest of Hickory Hill Milk. We stayed there after our training ride and couldn't wait to return.
Day Two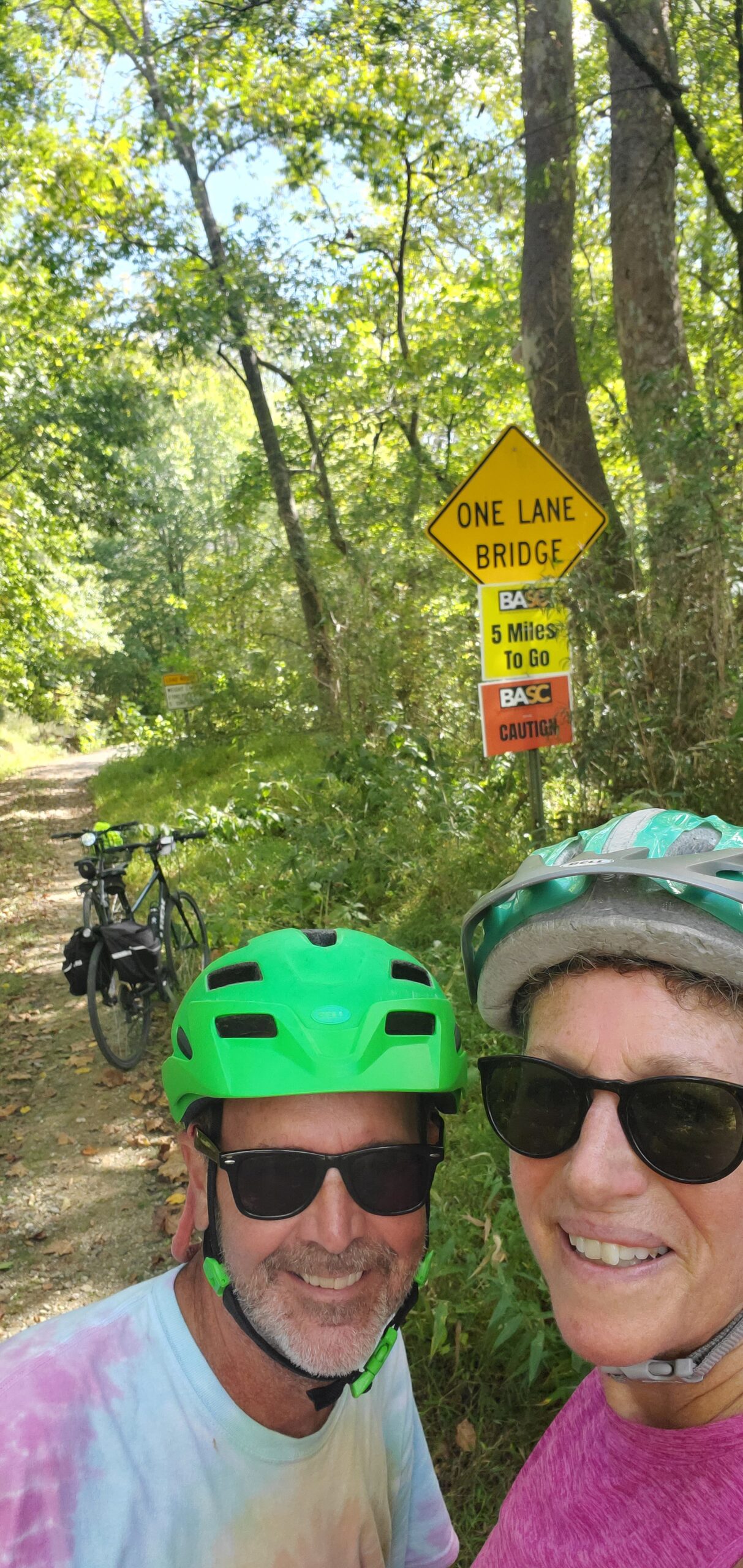 After we enjoyed another comfy night's sleep, we headed back to Hickory Hill Milk for the Day Two ride and more. Each pre-ride morning at BASC Basecamp included yoga and breakfast, followed by an 8 am start for the long ride and 9 am starts for us and others choosing the short ride, which was 31 miles for Day Two, including a 1,576-foot change in elevation (which definitely provided a challenge for these two Lowcountry flatlanders).
That said, we loved the Day Two Ride through the Old 96 District's rural and agricultural landscapes, including lots of rockface descents and climbs, single track trails, and off-pavement traffic-free riding. Everyone we spoke with (both first-timers and past BASC participants—mostly middle-aged men and couples with a smattering of younger people and a couple of families) raved about the routes. And the staff and volunteers with BASC did a great job signing the route and providing support, rest stops, and plenty of beverages and snacks.
Once back at Basecamp, (with the requisite stop at Hickory Hill Farm store for a pint of the best-tasting chocolate milk we've ever had) the rest of our Day Two included a fun celebratory lunch—complete with post-ride storytelling, afternoon yoga, and then a hot shower back at Inn on the Square. Like Day One's evening, Day Two continued back at BASC Basecamp with a farmers market highlighting local produce and more, lawn games, live music with Augusta's Keven Mack (the spitting image of Zac Brown with vocal influences of Chris Stapleton and David Grohl), another happy hour, and dinner (featuring barbeque and more from The OId Edgefield Butcher Shop). When the campers headed to their tents and RVs, we went back to our bed at Inn on the Square.
Day Three
So, what about Day Three for Seldon Ink? Well, here's full disclosure: Day Two really kicked our butts, so we decided to forgo Sunday's 30.4-mile ride, which would also have brought another 1,400-plus feet of elevation gains for our sore quads. Although we wrestled with our decision, we don't regret it, and we're already looking forward to learning more about BASC 2022.
Day Three back at Hickory Hill Milk again included pre-ride yoga, a hearty breakfast, and an afternoon celebration featuring a burger and brat lunch, an extended happy hour, and all kinds of games, music, and entertainment to celebrate the accomplishment. By all accounts, it was a great way to end BASC 2021!

Bicycle Across South Carolina has been on our South Carolina bucket list since we heard about it in 2019. That bucket list also includes visiting all 47 South Carolina state parks, through the state's Ultimate Outsider program, as well as eventually traversing every mile of the still-growing Palmetto Trail. 
—
Lynn and Cele Seldon (Seldon Ink) participated in their first Bicycle Across South Carolina (BASC) in collaboration with the Old 96 District and BASC.