by Jason Barnette
An orange disc hurled through the air. Bang! A moment later another orange disc. Bang! I lowered the shotgun and looked at the shattered pieces of sporting clays across the ground. I looked over at Tom who had a big smile on his face. "Got 'em both. You're a natural, Jason!" 
I was a bit apprehensive before arriving at the Palmetto Shooting Complex in Edgefield, SC. I had never fired a shotgun before and knew absolutely nothing about shooting sporting clays. But when Barbara Ware, director of the Old 96 Tourism Commission, asked if I wanted to go I didn't hesitate to say, "Yes, please." 
While she hosted me in nearby Greenwood, I took one afternoon to drive into Edgefield for my first experience with shooting sporting clays. Little did I know I would discover a passion for the sport at the Palmetto Shooting Complex. 
What is the Palmetto Shooting Complex?
In 1973 the National Wild Turkey Federation (NWTF) was founded with a mission of promoting conservation and preservation of the country's turkey hunting heritage. Part of that mission included the art of the hunt, something the NWTF wanted to teach members and non-members alike. In late 2015 that mission was accomplished when the Palmetto Shooting Complex opened to the public. 
The Palmetto Shooting Complex became an instant success. In just the first six months more than 6,000 shooters and 20,000 visitors traveled to the sprawling complex outside Edgefield. Skeet and sporting clay tournaments soon followed and forever sealed the Palmetto Shooting Complex's position as a premiere shooting destination in the Southeast. 
Getting Started at the Palmetto Shooting Complex
A thousand questions ran through my head during the drive to the shooting complex. Would I need to change clothes? Should I have brought my own ear plugs? Fortunately, I wasn't too worried about the actual shooting. I was an ace at Duck Hunt after all. Well, that was until my brother realized he could use the controller to change the course of the ducks mid-flight.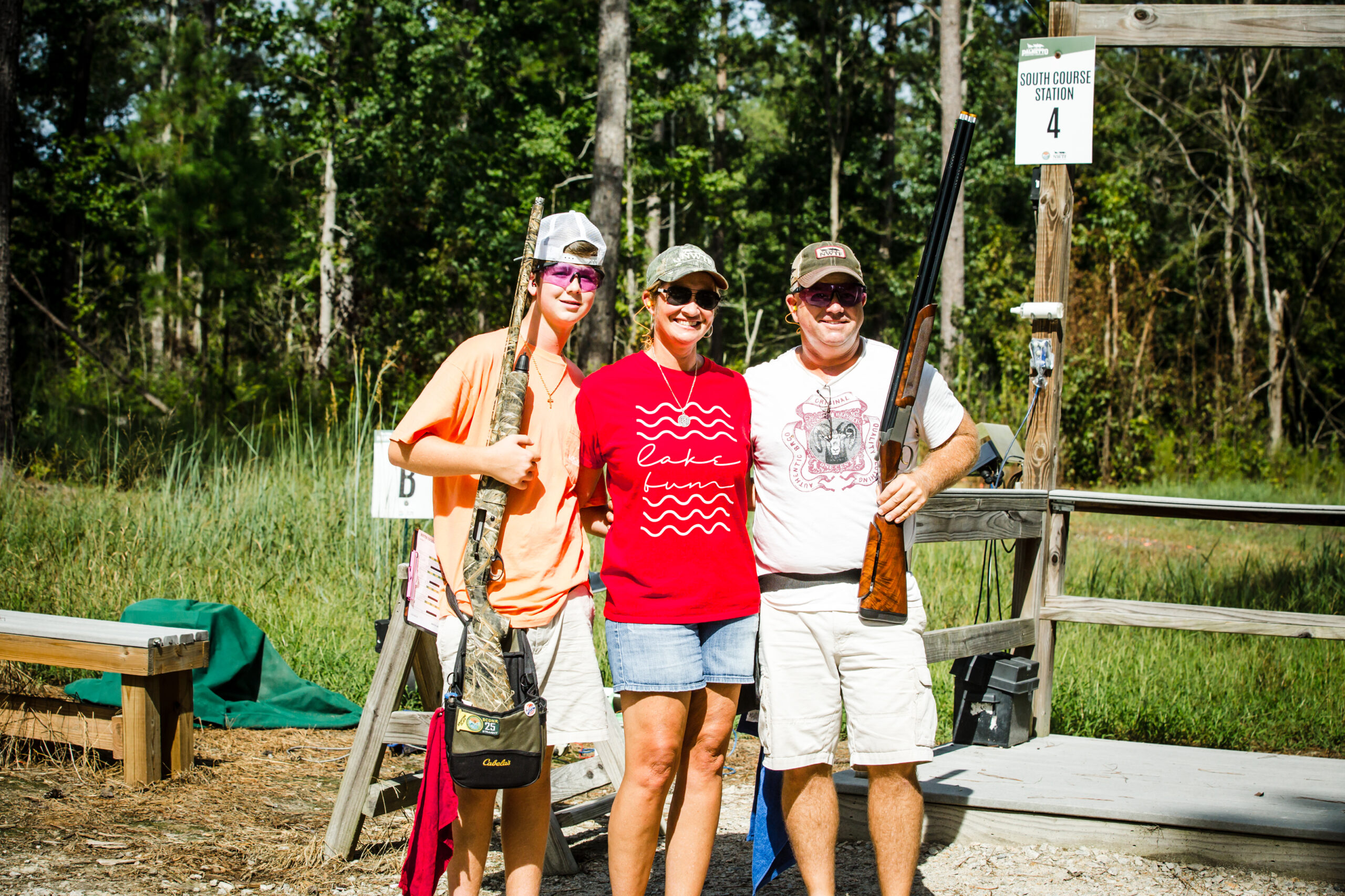 When I walked into the main office wearing flip flops and carrying nothing but a goofy grin on my face I think everyone realized this was my first time. Rhett Simmons, the manager of the Palmetto Shooting Complex, was eager to meet me and get me sorted for the day. 
"So, this is your first time shooting sporting clays," Rhett flatly stated. 
"What gave it away?" I asked. The flip flops? The goofy grin? Had I already done something wrong? 
"Barbara told me." I laughed. See? Nothing to worry about. Although Rhett admitted most of the people who shoot sporting clays for the first time are teens, it's not unheard of for adults to discover the sport later in life. 
Eager to get me started Rhett darted around the one-room shop grabbing everything I would need. Shotgun. Ear plugs. Safety glasses. Ammunition. Keycard. Bottled water. Five minutes later, my arms laden with the tools of shooting sporting clays, I exited the shop to meet my instructor for the day. Now I was getting really excited. 
Inside Tip: When I asked Rhett Simmons, manager of the Palmetto Shooting Complex, for his best tip for first time shooters he didn't even need to think. "Get a lesson." A moment later he added, "And the first lesson here is free!" Rhett explained how he wanted to spark an interest in shooting skeet or sporting clays so people would return time and again. The best way to do that? Offer a free lesson to guarantee a good first experience.
My First Experience Shooting Sporting Clays
Tom Emery was a local volunteer who enjoys spending his weekends teaching others how to shoot. He's a pretty good shooter himself so he had lots of tips to share during my first experience shooting sporting clays. 
We hopped into a golf cart and a few minutes later stopped at the first station on the North Sporting Clays Course. After a few minutes of instruction on traps, terminology, and how to properly hold and aim a shotgun, I was ready for my first shot. 
I jammed in the ear plugs, inserted a single target shell into the over-under shotgun, and stepped up to the rail of the shooting platform. I raised the shotgun into the air and braced the butt firmly against my shoulder. "Pull!" I shouted.
A bright orange disc hurled through the air. Bang! A moment later the completely intact disc landed on the ground. 
"Alright," Tom said. "Do you know what you did wrong?" 
"Not a clue," I responded with a chuckle. 
A few minutes of instruction followed. I paid close attention to every word with an eagerness to destroy some clay targets. When the lesson stopped I felt ready to try again. 
"Pull!" The orange disc hurled through the air. This time I lined up the sight, kept moving, and squeezed the trigger. Bang! The disc shattered into pieces. 
This routine of one-on-one instruction followed by firing a few rounds at each shooting station continued. Each station included a pair of traps, electronic devices that launched the sporting clays, which were always set up in different ways. After successfully defeating each challenge I moved on to the next shooting station.
Discovering a New Passion of Shooting Sporting Clays
It was getting near the end of my two-hour instruction with Tom. Each station has presented a challenge and with his tips I had overcome them all. That's when he decided to up the ante. 
"Now we're gonna shoot in pairs," he explained. Up until that point the sporting clays were launched one at a time. But now the two traps would be linked; after I shouted "pull" for the first trap and fired, the second trap would automatically launch the next clay target.
I saddled up to the rail of the shooting platform. Loaded the shotgun. Spread my feet shoulder width and found my position. I was ready for this. "Pull!" An orange disc hurled through the air. Bang! A moment later another orange disc. Bang!
I looked over at Tom who stood there with a big smile on his face. "Got 'em both. You're a natural, Jason!" 
It was at that moment I realized the thrill of shooting sporting clays. There was something very satisfying about the recoil of the shotgun against my shoulder, hearing the dull explosion of the shells through the ear plugs, and a moment later seeing an orange disc burst into dust. 
Neither one of us had thought to keep score. But two hours, fifteen shooting stations, and one hundred rounds of ammunition later I asked Tom how I did. "I think you destroyed about 78 or so clay targets. That's good for a first time!" I was a natural. Who knew? 
What Can Visitors do at the Palmetto Shooting Complex?
Skeet or sporting clays. Solo adventure or group of friends. Tournament participate or spectator. There are so many ways to enjoy an afternoon at the Palmetto Shooting Complex.
The Skeet Shooting Range is located directly beside the main office. The range includes five shooting stations. Skeet is different from sporting clays because the traps are located inside fixed buildings and the shooter plays the entire round from a single shooting station. This makes it easy for people to watch skeet shooters; the middle shooting station even has bleachers. 
There are two 15-station Sporting Clay courses. Each course is accessed via golf carts along a dirt path through the woods surrounding the main office. Each shooting station includes two traps, an electronic controller, and a wooden shooting platform. 
How much will I spend shooting sporting clays?
A lot of shooters at the Palmetto Shooting Complex have their own equipment and many are members of the NWTF. First time shooters will need to rent the equipment. Fees include $10 to rent a shotgun and $15 for a golf cart, $55 for one hundred sporting clays, and about $40 for ammunition. The total cost for a round of 100 sporting clays is about $140. 
One of the latest additions to the Palmetto Shooting Complex is the 3-D archery course. The course winds through a thick wooded area with various wild animal targets located a couple hundred feet away. The level of difficulty of each target varies with vegetation, angle of attack, and size of the target. Of course, the biggest different between archery and shooting skeet or sport clays is that you have to go after your ammunition after you fire!
Spectating could also be a fun way to spend a few hours. During tournament play or just any regular day of the week visitors can come out to watch others on the skeet and sporting clays courses. The 9,500-square foot pavilion is often used for organizing events but also provides a respite from the sun during the summer days. 
Where to Stay Near the Palmetto Shooting Complex
Want to make a weekend of your experience at the Palmetto Shooting Complex? Here are a few great places to stay. 
The only hotel in Edgefield I would recommend is the Quality Inn & Suites. The rooms have been recently renovated to include new furnishings. It's conveniently located just minutes from the shooting complex and downtown Edgefield. It's great if you want to stay local, but don't expect a full breakfast the next morning.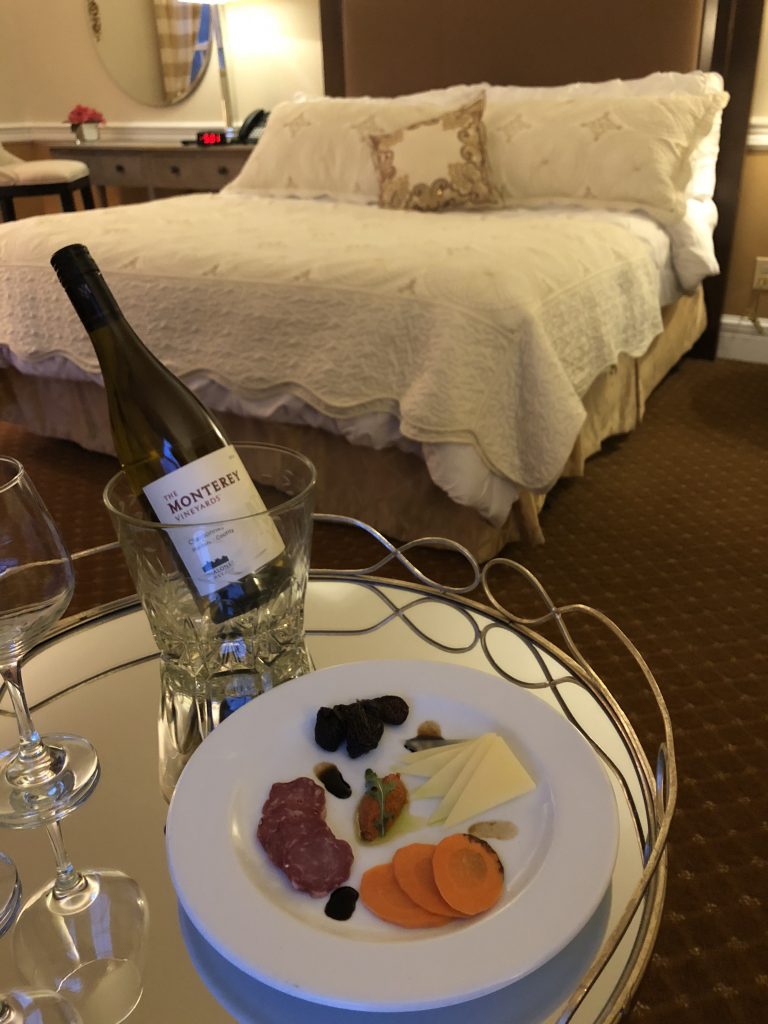 The Inn on the Square in nearby Greenwood would be a fantastic place to spend the weekend. This locally owned boutique hotel is a 45-minute drive from the shooting complex. The rooms are spacious and comfortable and the hotel is within walking distance to downtown shopping and dining. 
The Holiday Inn Express in North Augusta is another option. Located at Exit 5 off I-20, the hotel is about 25 minutes from the shooting complex and 10 minutes from downtown Augusta, Georgia. 
Inside Tip: Take advantage of special pricing at the Holiday Inn Express. Call to book your reservation and mention your confirmation at the Palmetto Shooting Complex and you'll get a standard Double, King, or Accessible Room for just $85/night (plus taxes and fees). 
Getting to the Palmetto Shooting Complex
The first time you visit the Palmetto Shooting Complex you will feel like you're driving off the edge of the Earth. It's actually rather close to Interstate 20 and the drive through the South Carolina countryside can be quite beautiful. 
The easiest way to get to the shooting complex is to take Exit 5 on I-20 and take US Highway 25 north. This two-lane road is in the process of upgrading to a four-lane divided highway that will make travel faster and easier than ever. Near Edgefield the road passes through some enormous peach farms.
The more scenic route is to take the same interstate exit but then turn onto Sweetwater Road (SC Highway 19-34). This two-lane road crosses the countryside surrounded by plantation homes and farms. It takes just a few minutes longer than US Highway 25. (Here's 25 Discoveries Along Highway 25.)

—
Jason Barnette knew at age 12 when his mother bought him a typewriter he would love writing stories. His first story was about Star Trek and he has been writing ever since then. He enjoys crafting a story with details and intrigue that inspire people to visit a destination.  He sprinkles in a bit of history, adds a list of things to do, and gives the reader an amazing experience. Road Trips & Coffee is his main avenue for sharing his thoughts. #GoForaDrive is his handle!