Day One
We start our small-town getaway in Edgefield, SC. This town is the historic home to 10 South Carolina governors throughout American history, and the Ten Governors Trail tells the story with historical markers along its easy walking trail. This urban hiking trail allows you to gently get the blood flowing and learn a little history about the town along the way. (Here's a complete list of our trails.)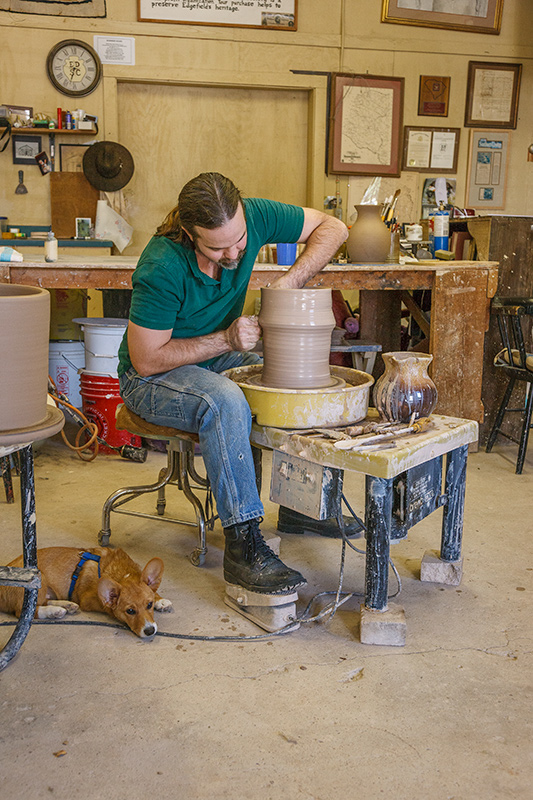 Just off the main town square, visit the Village Blacksmith for a look at old crafting traditions.
Back on the main town square, we'll have a quick lunch at TLC Confections & Gifts. This cozy bakery offers coffee, sandwiches, and a daily-changing menu of fresh-baked sweet treats. We recommend the butter pie and grilled cheese sandwich with figs. Alternatively, for another option in the downtown area, stop by the Old Edgefield Grille known for its delicious fresh entrees.

Allow all this amazing food to be digested correctly with a flight of samples from Carolina Moon Distillery, a microdistillery sourcing all of its ingredients locally. While tasting their specialty moonshines, be sure to ask for a tour through the back to learn all about the creation process!
Once we're finished with part of the adventure, it's time to enjoy the local shopping. August + House specializes in warm, Southern chic home goods. The House Next Door showcases unique gifts, antiques, and collectibles. A one-room schoolhouse is also on-site, renovated to display even more goodies inside. Be sure to say hello to the pet rabbits on your way out. There are many other shopping opportunities in Edgefield County and our surrounding region. 
Once we're satisfied with exploring Edgefield proper, it's time to enjoy some of the local farms. Hickory Hill Milk is a family-owned working dairy farm supplying fresh milk to many local businesses and restaurants. Reserve a spot for one of their tours, which fill up fast! Three Star Vineyard in Johnston, SC lets visitors wander through rows of scuppernong and muscadine grapes. Sip their local wine (in bottle or slushie form) and take a peek at the cute home goods, jams, jellies, and fresh grapes inside the gift shop.
We'll have dinner back in Edgefield at Christine's Farm to Fork, Edgefield's newest addition. They pride themselves in using locally-sourced and seasonal food designed to bring visitors the freshest meal possible.
At the end of the day, spend the night at Isabella's Bed & Breakfast or Azalea Inn, incidentally managed by the owners of Christine's Farm to Fork.
Day Two
Today is all about enjoying the wonders of McCormick County! Hard Earth Farm in Modoc, SC is deeply devoted to health and sustainable living. You will find 45 of their 140 acres of land have been transformed into rolling pastures and cozy campgrounds as the rest is protected under environmental easement. Contact them ahead of time for a tour of the grounds and a lesson or two in sustainable living. Visitors are put to work when they visit, helping feed the goats, llamas, and alpacas. Next up we have Stonywoods Farm in McCormick, SC, also by appointment. (Just email stonemea@aol.com to arrange a visit!) After being diagnosed with MS, Mea Stone has devoted her life to raising and caring for Angora goats, discovering a true passion.

Next up, we'll visit the McCormick Arts Center at the Keturah-locally known as the MACK. This art museum features local artists, with a gift shop also featuring locally-made crafts, books, soaps, jellies, and more. There's plenty of shopping on the main street as well. Across from the MACK is Red Rooster Antiques, a charming store featuring– you guessed it– curious and charming antiques. Frames Unlimited, Act II doubles as both a frame store and a carrier of high-end imported goods.  
For lunch, it's a trip to the Railtown Café where you will feast on delicious homemade items. Once we are fed and happy, it's on to Hickory Knob State Resort Park. This is the only South Carolina State Park that is also a resort, meaning there's plenty to do. Take a stroll down the hiking and biking trails or play a round of golf on their championship golf course. There are also opportunities for fishing, boating, archery, and clay shooting.

There are plenty of lodging options in the park besides campgrounds, including freshly-renovated cabins and even the Historic French Huguenot Guillebeau House. Eat at the park restaurant and take a dip in the pool before winding down.
Day Three

The next morning, eat breakfast at the park and take your time enjoying anything else in the park you couldn't squeeze in the day before. Once satisfied, it's time to say our goodbyes and head home. We hope you had a wonderful time exploring all of the "unexpected wonders" in Edgefield and McCormick County! We can't wait to see you again!