January is a magical time of year! As we enter a new decade, everyone rallies together to improve themselves and support each other in our goals. It's famously difficult to stick to New Year's Resolutions, but we hope to offer a little encouragement: slipping up or missing a day doesn't mean failure, and you can always hop right back on the train and keep lifting yourself up!
We think one of the best ways to nourish a new habit is to do it in a different space, something to stimulate your brain and shake up the routine. Travel is an amazing way to do this! Here's a list of destinations in the Old 96 District that line up with common goals and resolutions.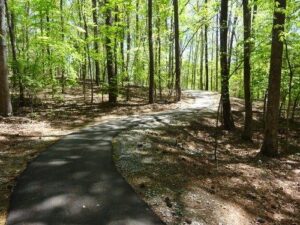 Get in Shape- Hiking Trails
Old 96 District is home to over 250 miles of hiking trails. Getting out in nature soothes the mind, and a change of scenery is more nourishing than staring at a gym wall several times a week. Whether you're set to go biking, running or just walking to get your body moving more, trails for every skill level and length wind through our five counties. This list of Fall Trails actually works all year round, if you want to find which trail is perfect for you.
Calming Stress
Being at peace is a constant journey, but treating yourself to something nice to relax and let go is always a welcome boost. The Spa on Maxwell in Uptown Greenwood offers massages, facials, and more to help put your body and mind at ease. Take a moment to be kind to yourself and nourish your body's well-being. (If you really want to pamper yourself, you could even get a haircut and your nails done, because The Vintage Vault Marketplace & Salon is walking distance from this spa!
Eating Healthier- The Village Grill
Old 96 District is no stranger to good food, but The Village Grill is one of our personal favorite for this particular mission. Nestled in the heart of Abbeville, SC, The Village Grill offers a variety of fresh American fare, including salads you'll actually enjoy eating. Their portions are filling but not massive, and its location offers an easy town to walk around and digest afterward.
Spend More Time With Family- South Carolina State Parks
Old 96 District is home to 6 State Parks, including South Carolina's only State Resort Park! Getting outdoors with the family can be a wonderful way to bond, and the parks provide a myriad of other activities besides just hiking. Pitch a tent and wake up to a lake view at Lake Greenwood State Park, or go fishing, boating, or water skiing. Shoot skeet (or teach the younger family members how) at Hickory Knob State Resort Park, or take a shot on their 18-hole golf course. A new decade is a perfect time to start a family tradition.
Travel to New Places- US! (Really!)
There's something we really do love about small towns and rural areas. Visiting them as a tourist feels different from the usual "big" destinations, but feels just as rewarding. Swap out the big crowds and long lines for small businesses with a big heart, and you get the idea. Old 96 District is packed with hidden gems and undiscovered wonders, without the crowds, hectic schedule, and expense of something more known. This year, come find what experiences await you here that you just can't get anywhere else. We can't wait to meet you!