This fall, ditch the crowds and come discover the unexpected wonders of South Carolina's Old 96 District! Encompassing the counties of Abbeville, Edgefield, Greenwood, Laurens, and McCormick, we have so many places to eat shop, stay, and explore—there's truly something for everyone.
EAT
Mama's Sweet Shoppe- Due West, SC. Fresh house-made donuts, coffee, and a menu that changes daily!
Fat Daddy's BBQ- Greenwood, SC. Classic South Carolina Bar-B-Cue, with house-made sauces and some of the best hash around.
Kicker's Cafe- Greenwood, SC. Enjoy a mix of American classics and international favorites. We recommend the tower of onion rings.
TLC Bakery- Edgefield, SC. This cozy bakery offers a variety of house-made treats and lunch options.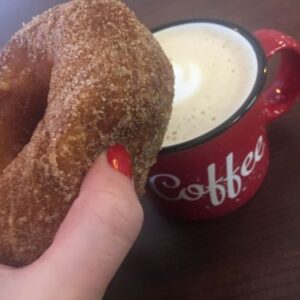 SIP
Good Times Brewery- Greenwood, SC. The Mill House Pizza and Good Times Brewery team up to serve locally-made pizza and beer in the heart of Greenwood.
Carolina Moon Distillery- Edgefield, SC. The Old 96 District's very own micro-distillery, using fresh locally-sourced ingredients. We recommend the vodka.
South Bend Winery- Greenwood, SC. Enjoy delicious wines with charcuterie boards. Live music outdoors on Saturday evenings.
Three Star Vineyard– Johnston, SC. Wander rows of scuppernong and muscadine grapes, sample the wine, or relax at their spiked slushie bar.
EXPERIENCE
Abbeville Opera House- Abbeville, SC. This historic venue has been open for over a century. Check their website for details on live music, comedians, and more.
Emerald Farm- Greenwood, SC. With friendly saanen goats, free-roaming peacocks, a mystery train ride, and more.
25 Drive In- Greenwood, SC. Enjoy a classic drive-in movie theatre experience with food delivered to your car.
Palmetto Shooting Complex- Edgefield, SC. Shoot clays at Old 96 District's premeire shooting complex! Great for seasoned pros and beginners alike.
Stewart Farms- Laurens, SC. Pick the perfect pumpkin, meet farm animals, and more
Hickory Hill Milk- Edgefield, SC. This working dairy farm hosts "Fall Nights" with live music, hay rides, and of course… cows!
STAY
Hickory Knob State Resort Park- McCormick, SC. Stay at a campsite or choose from a variety of different suites and cabins. Step outside and be right in nature.
Sharon Manor- Abbeville, SC. A cozy bed and breakfast located just minutes from Abbeville, SC. Check out their spotlight here! 
Belmont Inn- Abbeville, SC. This historic inn sits right next to the Abbeville Opera House in the heart of the town square.
Inn on the Square- Greenwood, SC. Greenwood's first full-service boutique hotel is walking distance from many of the town's best restaurants and shops. They're also dog friendly!
Lady Amelia Bed & Breakfast Inn- Cross Hill, SC. This cozy B&B is an easy drive from Greenwood and also serves as a gourmet restaurant!
Best Hiking and Biking Trails in the Old 96 District
Bed and Breakfasts in the Old 96 District