Let's make one thing very clear: I love food. Food does not always love me back, but there's little I wouldn't do for something delicious. Sweets and desserts pose their own unique challenges in the kitchen, being as much a science as an art. Because sweets are everywhere and everyone craves them, it's easy to find something good but hard to find something truly excellent. Fortunately, Old 96 District is in no short supply of sweet treats that satisfy and leave us craving more.
A fair warning: if, like many of us, your New Year's resolution includes a diet, this article might kill your motivation to stick with it. Alternatively, it might increase your drive to visit us and stuff your face with as much deliciousness as you can before officially starting! We trust your judgement. Here are Old 96 District's best options to satisfy that sugar craving: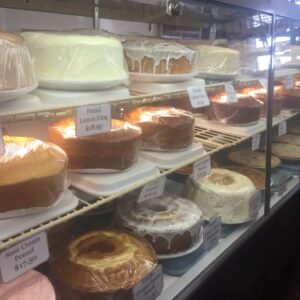 Pound Cake- Swartzentruber's Bakery in Abbeville, SC
Located less than 10 minutes from downtown Abbeville, Swartzentruber's Bakery is more than worth the extra stop. This Menonite-owned German bakery makes a wide variety of cakes and pies, but pound cakes are their specialty. These pound cakes come with a wide range of flavors and icings.
My personal favorite is actually their most simple: the three-flavor cake with orange, vanilla, and lemon. The cake is perfectly moist, packed full of flavor while still letting that special pound-cakey flavor sing through. If pound cake isn't your thing, perhaps their strawberry pies and cinnamon rolls are more your style. I haven't tried them yet (because I still want to order my favorite pound cake each time,) but I trust they're just as delicious.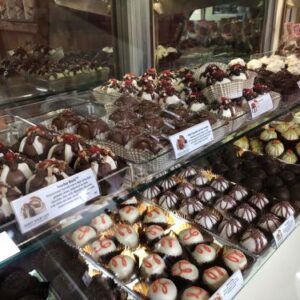 Chocolate Truffles- Pendleton Farms in Abbeville, SC
This one is located right on the square next to the Abbeville Opera House. Pendleton Farms is a surprising place to earn a spot on this list, but I love me some chocolate. Pendleton Farms is a retail store, with antiques in the back and upstairs. The front sells gourmet food things from around the country, like hot sauces, jams, and powdered mixes. Behind the glass at the counter sit some decadent-looking chocolate truffles. They're calling my name, how could I resist?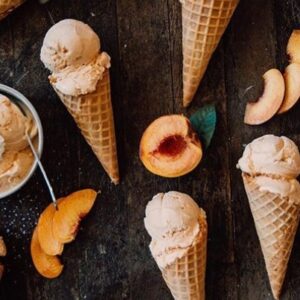 Ice Cream- Edgefield General Store in Edgefield, SC
Hershey's Ice Cream is like the comfort food of desserts. It's familiar, friendly, and reliable. The Edgefield General Store lines its checkout counter with different Hershey's flavors, but what makes this place unique is twofold. First, there's the variety of options. They have a lot of flavors, plus the option to make it a milkshake and even add malt! (As a malt fan, I appreciate how hard that can be to find sometimes. Yum.) Second is the atmosphere. Sitting on the barstools against the thick wooden counter, taking in the shop's warm and homey atmosphere makes one feel like their receiving their milkshake in a different decade. (Also, their Instagram is really worth checking out— that's where we got this picture!)
Reese's Cup Cake- Gather Bistro & Bakery in Greenwood, SC
Gather Bistro & Bakery is located inside The Alcoves, a store and nonprofit dedicated to lifting up local women in need. This hidden gem also helps the cause! This corner of the shop has a light, open atmosphere with plenty of opportunity to people watch while noshing. Their menu changes daily, so each day brings new treats. The lemon bars and scones could have each easily made this list, and then they brought out this cake. What can I say, I'm a sucker for good presentation.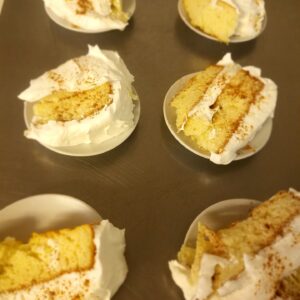 Tres Leches Cake- Buenavista Latin Cafe in Greenwood, SC
Buenavista Latin Cafe is a gem of a restaurant. Located right in the main stretch of Uptown Greenwood, they offer traditional Cuban fare that rivals what you could find in Miami. After digging into some empanadas or a cuban sandwich to ambient Latin American music, finish your meal with a slice of tres leches cake. I'm picky and this cake delights me; just the right amount of sweet in the cake and icing, just the right kind of wet you want from a milk-soaked cake without getting soggy. It's a difficult cake on a technical level: all I can say is well done!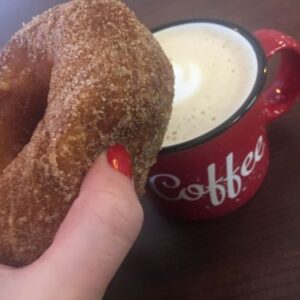 Donuts- Mama's Sweet Shoppe in Due West, SC
When I learned about Mama's Sweet Shoppe, I was told to get there as close to their 7AM opening as I could before they sold out. After paying a visit, I completely understand why. The two people in front of me each ordered at least a dozen donuts, which came in flavors ranging from traditional glaze, to apple cider, to birthday cake. Many flavors are lavishly decorated and are a delight to even look at. As for taste: I'll confess that I'm not usually a donut person (sacrilege, I know) and I'm still thinking about my apple cider donut. Every day. I miss it. It was truly the best donut I've ever had by a mile, and absolutely worth waking up for (and don't worry, they also sell coffee. I got a toasted marshmallow latte.)
Apple Strudel- Country Cafe & Bakery in Cross Hill, SC
This little restaurant sits right off the highway and is also owned by Menonites, like Swartzentruber's Bakery. Unlike Swartzentruber's, Country Cafe & Bakery also has a menu for regular meals (including one truly exceptional burger.) I love this place not just for the taste, but for the price. A pan of Apple Strudel for just over four dollars. Four. Dollars. And it's delicious. Loaves of pumpkin bread, cinnamon rolls, swiss rolls, and more line the shelves. The sweets are all packaged to-go, which makes them perfect for taking home to friends and family, or pulling apart to munch on the rest of your drive.
If Old 96 District is on the menu, also consider checking out our BBQ Trail for all the best barbeque joints. These Fall hiking trails also work year-round for burning off all the calories you may have gained from reading this blog.
(Madison Seale is the Digital Media Manager for Old 96 District Tourism. She's enjoyed eating her way through the district's five counties, and finding every excuse to go back for seconds.)