Exploring different places at Christmas brings a sense of wonder and magic to the holiday season – especially when you're in the Old 96 District.
These small towns pack some big Christmas spirit and can provide great family fun, a couple's getaway, or even a solo adventure.
If you want to avoid major crowds for the holidays this year then head out to the Old 96 District for fun events, Christmas shopping at locally owned shops, and so much more.
7 Things to Do for Christmas in Abbeville & Greenwood
I was recently able to spend some time in both Abbeville and Greenwood where I got to experience the hospitality and kindness of these places first-hand.
Here are a few things to do if you want to visit in the upcoming Christmas season.
See the Christmas Play at Abbeville Opera House
The Abbeville Opera House has a long history as it was opened in 1908 because so many theater companies used the town as a stopover between New York and Atlanta on the railroad.
In the '20s they started transitioning to films instead of live performances and that lasted until the '50s when it had to close down. However, in the late '60s, a local group started raising money to restore the theater and present live shows again.
These days you can come and see musical acts, comedy shows, plays, and more here at this historic building.
During the weekend of December 16 – 18, Tell it on the Mountain: An Appalachian Christmas Story will have four different showings at the Abbeville Opera House.
The show is about a famous musician who is injured in an accident and nursed back to health by what he deems a "hillbilly family." Watching him find the true meaning of Christmas is sure to put you in the holiday spirit!
Attend a Christmas Event
There are tons of Christmas events held during November and December each year in the Old 96 District.
The City of Abbeville hosts many unique events like the Cookie Walk on December 3rd where you can munch on cookies while you visit the shops downtown. A Reindeer Run 5k will be held on December 10th this year.
Their annual Christmas Tree Lighting is typically held in early November and the annual Christmas Parade is December 10th along with the 5k.
Need to do some shopping? Pink Weekend is the weekend before Thanksgiving when the local businesses on the square downtown have special deals running. Handmade for the Holidays is a popular two-day pop-up market for local vendors to sell handmade items.
These are just a few things going on in Abbeville! Check the full list of events here.
Greenwood's popular Christmas event is the Santa on Main Weekend which is held the first weekend of December.
This consists of events throughout the weekend including a Christmas Market on Saturday as well as the tree lighting. Then on Sunday, there's the Christmas Parade and Cookie Crawl.
The Museum in Uptown Greenwood also has upcoming holiday events like Craft with Mrs. Claus which is part of the Santa on Main weekend. Christmas at the Train is also a popular event that will happen on December 10th this year.
Shop Local for Gifts
Both Abbeville and Greenwood have great local shopping opportunities. Personally, I love being able to support a local business while also picking up the perfect gift for the special people in my life.
Visit Abbeville's adorable town square and you can easily walk to multiple stores. Jessica's Closet is a great destination for cute clothes and accessories and most of the accessories she carries are from women-owned businesses.
Jessica's purpose in opening the store was so women would have a place to come feel loved, confident, and beautiful. I'd say she definitely succeeds in that. They will also have a stocking stuffer bar set up for Pink Friday.
For the person in your life who loves home decor, look no further than Divine Your Space. Here you can get cute decorations, plants with colorful pots, candles, and more.
You'll also find Divine Wine & Craft inside where you can buy wine and craft beer – great hostess gifts for all the holiday parties.
You can even gift a subscription to their wine club. Like to gift experiences? Give someone a gift certificate so they can attend one of their workshops.
Down the street, you'll find Breezy Quarters where Paige will help you find the perfect skincare gifts. You'll find all kinds of things here from handmade soaps to sugar scrubs to lip balms. They even sell luxurious Turkish Towels!
I purchased their Pet Spritz and have already used it on my dog, Barley, and it smells amazing.
Other great Abbeville shops include Crate & Quill, Southern Succotash, and Wolf Tracks Gallery & Gifts.
Greenwood also has great options for holiday shopping and is pretty walkable as well. McCaslan's Bookstore carries newly released novels, local writers, cookbooks, and more so if you know someone who loves to read this is a must-stop.
Sugar Boutique has cute and colorful clothes for women. Main & Maxwell is a very popular shop for locally-made one of a kind gifts. J a k e. is a great stop to pick something up for a parent with a baby or small kids.
I don't know about you, but one of my favorite gifts is locally-made food which you can find at Fenway's Farmacy. While they do sell a lot of local produce and meat, they also carry preserved foods like pickles, relish, jams, and jellies.
You'll also find seasonings, locally roasted coffee, and all kinds of cool things here. It's a great place to pick up something unique that can be used in the kitchen.
Have a Seasonal Drink & Pastry
When it's cold outside is there any better way to warm up than with a hot drink and sweet treat? I think not.
Main Street Coffee is just off the main square in Abbeville and they have delicious seasonal drinks and pastries. On their fall menu, you'll find a Cinnamon Roll Latte, Caramel Apple Cider, Firecracker Chai, and Caramel Pumpkin Pie Latte.
I was also able to try their Pumpkin Cream Cheese Muffin and all I can say is WOW!
At the beginning of last December, they rolled out their Christmas drinks which were Spiced Eggnog Chai, Gingerbread Cooke Cocoa, Peppermint Mocha, Maple Cinnamon Breve, and Salted Caramel Toffee Cocoa.
Aromas Uptown is an adorable coffee shop in Uptown Greenwood where I could have spent the whole day working and sipping coffee. The Orange Nutella drink was absolutely delicious.
Last year during the month of December, they had drink specials like Peppermint Bark Hot Chocolate and White Christmas – an iced white chocolate & vanilla latte with peppermint cold foam. Stop by this year to see what surprises they'll have!
.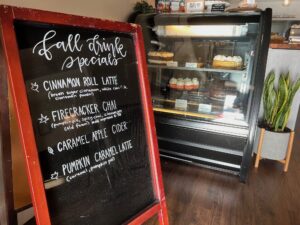 Drink a Seasonal Beer
Speaking of drinks, come to Good Times Brewing for one of their seasonal beers!
Last year their Fall/Winter brews were Batata's Brown Ale and Ides of Mars – an Oktoberfest. They should be releasing a Barleywine around Christmas this year!
They are also doing a Winter Dinner Event next year just after the holidays on January 7th. This would make for a great Christmas gift for beer lovers!
Good Times Brewing has amazing burgers and bar bites and is located right next door to The Mill House which is most well known for their brick oven pizza.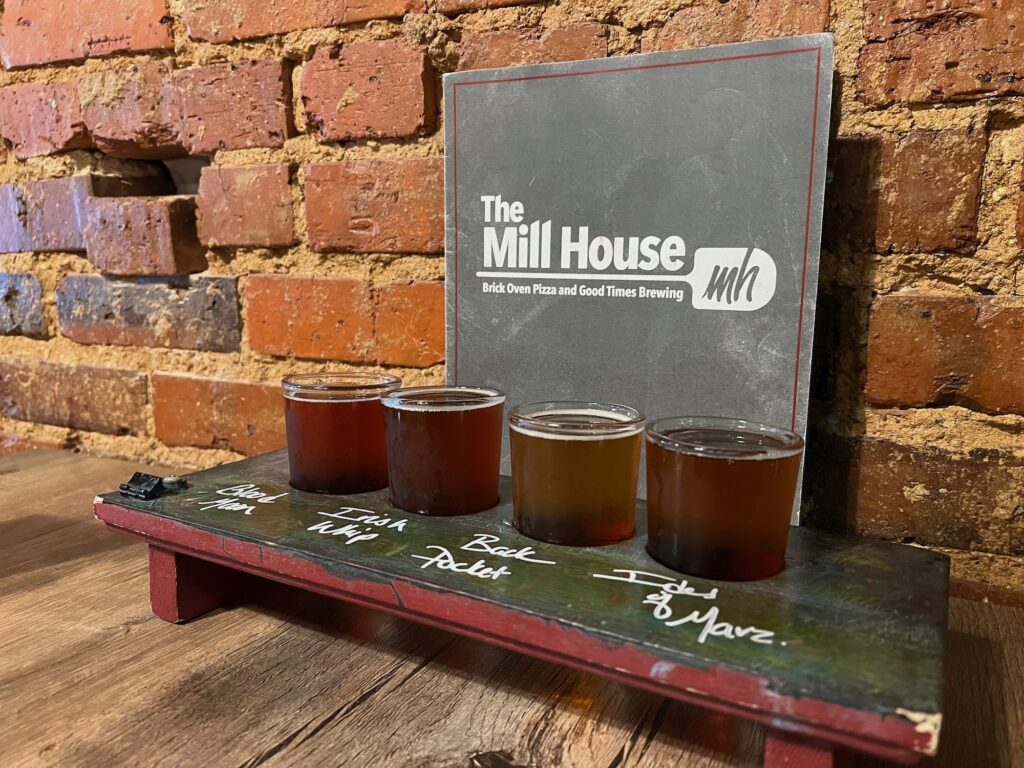 Pick Out Your Tree at Davenport Tree Farm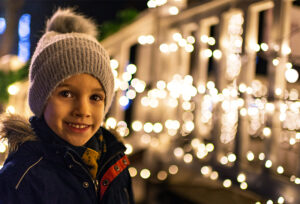 If you want a live Christmas tree then head out to Davenport Tree Farm – they even tie it down on your vehicle for you! They have a great selection of trees to choose from and participate in the Trees for Troops program which provides trees to military families.
While you're there be sure to check out their Christmas Shop where you can pick up wreaths, garlands, and other beautiful Christmas decor.
They also have a playground fit for all ages and have all kinds of winter festivities going on throughout the season. Davenport Tree Farm opens the week of Thanksgiving until Christmas.
Unwind at a Bed & Breakfast
The holiday season can get pretty hectic so what better way to unwind and take a step back than staying at a bed & breakfast?
I was able to stay at Sharon Manor when visiting Abbeville and had an amazing experience. The building was once Sharon School but you would never think that when looking at the outside.
It's not until you walk inside and are greeted by incredibly tall ceilings and huge windows on the other side of the room that you can even tell it was once a school.
The rooms are luxurious and full of amenities – soap and lotion made at Breezy Quarters, coffee roasted right at the B&B, and some rooms even have a small kitchen.
Spend some time relaxing in their common areas around the wood stove and cozy fireplace. If the weather is mild, you might get lucky and get to use the back patio.
Whatever you do, don't miss the amazing breakfasts cooked by Benita or her daughter. This is an add-on option for your stay and very much worth it.
While not a bed & breakfast, another great option for a relaxing getaway is Inn on the Square in Greenwood. It's within walking distance of the shops in Uptown and a cooked-to-order breakfast is included.
This boutique hotel has an adorable lobby where people actually use the common areas and guest rooms all have televisions, WiFi, and sitting areas. They are also dog-friendly if you need to bring your pup along!