By Martha Steger
The South Carolina welcome-center counselor's face showed surprise when I said why I was traveling to the Old 96 District.
"I'm just a sightseer," I told her when she asked if I were visiting friends or family there.  Her facial expression reinforced that most people travel – whether to cities or rural areas – to visit "friends and family," according to research by the U.S. Travel Association.  Just below this reason, the USTTA says, is the "shopping" motivation – something with which many of us can identify – and which the Old 96 District, it turned out, offers in abundance.
Greenwood's early-June South Carolina Festival of Flowers is renowned, and I was familiar with outdoor-recreation opportunities along Lake Greenwood; but the lifting of coronavirus restrictions meant an opportunity to go inside historical sites as well as artisanal shops and eateries in Greenwood and Abbeville – something I wanted to do.  I started with the region's heritage and intermingled other stops along the way.
Civil Rights, Cherokee Indians, Revolutionary War – An Overview
A lot of visitors have traveled to the Martin Luther King, Jr. Memorial in Washington, D.C., and to the national historical park and birth home of the Civil Rights leader in Atlanta; but not many have experienced the Greenwood childhood home of the man who was a primary influence on MLK in his formative years – Dr. Benjamin E. Mays, who rose from sharecropper's son to president of Morehouse College.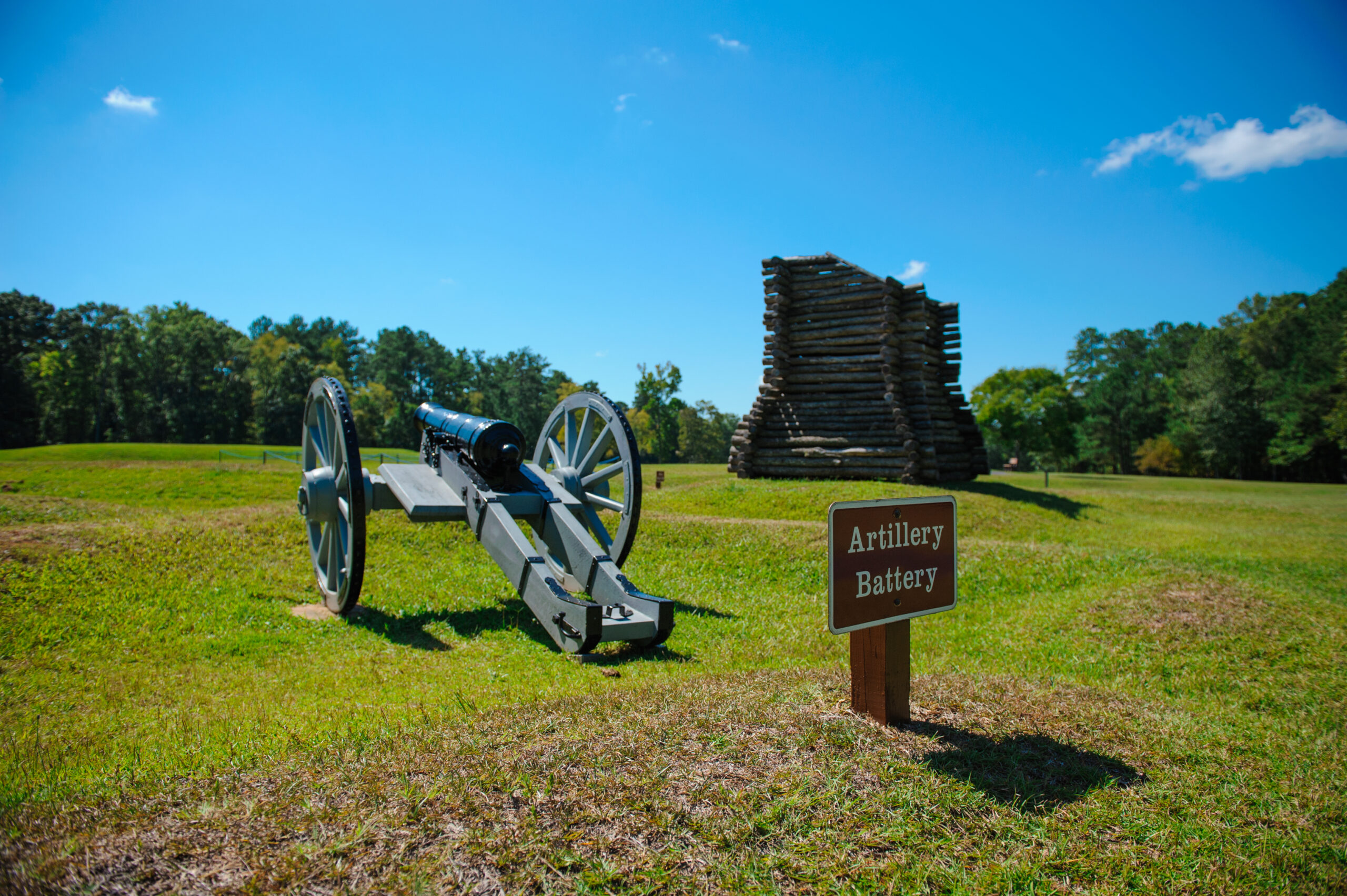 As Greenwood locals say, "For a small Southern town, Ninety Six has some serious pedigree." History from all American eras has left its marks on the area, beginning with the Cherokee Indians – from whom it's believed "Ninety Six" received its name when Indian maiden Issaqueena (Cateechee) rode her horse ninety-six miles from Keowee, capital of the Cherokee nation, to the settlement to warn of impending war by the Indian natives.
After a brief Q&A with the National Park Service ranger at the Ninety Six National Historic Site, I took one of two wooded trails off the paved path to the Revolutionary War's Star Fort and the site of the colonial trading post. Dark figures planted in the woods bring the 18th century to life: I didn't have to know much history to identify with the hardships of weather, hunger and encroaching enemies experienced by Indians as well as British and American soldiers.
Winding My Way North 
Less than an hour's drive north – 15 minutes from the Laurens County city of Clinton – took me to the Revolutionary War historic site for the bloody Battle of Musgrove Mill, fought on August 19, 1780. Walking the two and a half miles of nature trails not only explains – through interpretive signage – the surprising victory of the vastly outnumbered Patriot militia over the Loyalists but also unfolds the natural beauty of Horseshoe Falls and the Enoree River, along which much of the fighting took place.
Dawn Weaver, park manager, who lived and worked near the park before her job there, encourages a hike to the British Camp along the Enoree River – where she promises water "rippling over the rocky shoals along the deep-forested trail with old-growth trees and twisted vines" provides "a nice place to get away to think."
Along the routes for Old 96 District heritage, I enjoyed conversations (and more than a few purchases) with the owner of a dairy farm (who operates a must-see gift shop), engaging artists, shopkeepers, restaurant owners – and brew- and whisky-makers – as well as innkeepers.  Capping off the visit, fresh peach ice cream awaited me at Sara's Fresh Market in Trenton – along with a good-sized bag of sweet peaches from a nearby peach stand.  When I went back to that welcome center at the state line, I told the travel counselor I might not have had family in southwestern South Carolina, but I had made new friends passionate about what they do – and experienced the best of the Old 96 District.
Places & People in the Old 96 District
At the Benjamin E. Mays Historic Site, the former tour guide, now museum director, Chris Thomas, conveys passion for his subject during the 90-minute comprehensive guided tour of this homesite. Reminiscent of a 1900s-era sharecropper homestead, the attraction – complete with a one-room African American school moved from nearby Epworth – makes an excellent intergenerational visit (my grandfather began his working life as a sharecropper).
Thomas moves from outdoor farming implements near the small field of cotton to the bare-bones interior with circa 1900 furnishings – including a period pie-safe – of this childhood home also moved from Epworth.  In the adjacent museum, Thomas explains the chronology of displays detailing Dr. Mays' long life, along with the large collection of his books and personal items.
At Emerald Farm, a working dairy farm in Greenwood, look for owner Kathy Zahn to learn about her work preserving nature on 75 bucolic acres of rolling pastureland.  I found Zahn in the not-to-be-missed gift shop, which offers many skin-care products created by Emerald Farm from the Saanen goats raised there. Visit with the goats; check out the antique shop. (Fans of antiquing can discover many other antique shops throughout the Old 96 District as well.)
I'm personally a model-train fan and enjoyed watching the train run in the Model Railroad Clubhouse. All ages are welcome aboard (at a fee) the small Emerald Farm Express for a trip around the property, including tunnels and the "Village" in the woods. I was reminded of my family farm when I heard the screams of pea fowl– and watched the beautiful tails of peacocks unfurl.
The Old 96 District has two distinct Revolutionary War battlegrounds and many more skirmishes and historical marks. At Ninety Six National Historic Site, ranger Sydney Shepard told me,
 "Not many people think of South Carolina when they think of the Revolutionary War, but more than 200 battles were fought in the state." Interpretive signs explain the 1775 skirmish and 1781 battle that took place here – the South's first Revolutionary War land battle. Also known for its eight-sided Star Fort, the site offers walking as well as horse trails; I took the one-mile paved trail to see the amazingly well-preserved 18th-century mounds and the reconstructed rifle tower. Well-placed, painted dark figures in the woods bring the area's heritage alive: I didn't have to know much history to identify with the suffering from the elements as well as from war.
A half-hour's drive west of Greenwood leads to a great off-the-beaten-path stopover – what locals call their "vintage village," the Abbeville Historic District, whose town square reflects the ambiance of a bygone era. Keep in mind that some of the quaint shops are open only 10 a.m. to 5 p.m.
Edgefield, an hour's drive from Greenwood and home to a world-class potter and whiskey distillery, is a small gem in this region. For wildlife oddities on display, stop at the National Wild Turkey Federation Winchester Museum.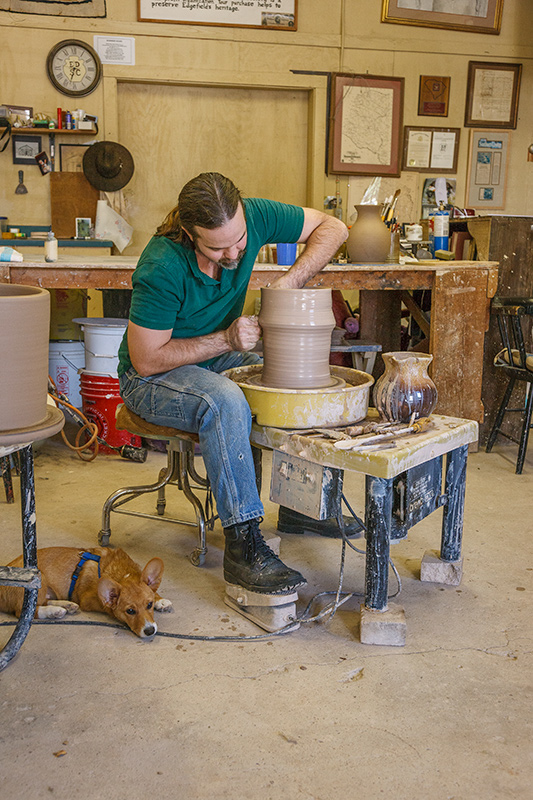 A couple of miles from Edgefield lies a comprehensive roadside market that's well worth a stop, Cook's; within another couple of miles, sampling Sara's Fresh Market ice cream is a must.
Be sure to get to Edgefield before 4 p.m., as Old Edgefield Pottery showcases potter Justin Guy and his outstanding work.* Sitting at his wheel, Potter said, "I've never met a clay I didn't like" – whether red, blue, yellow or white. Looking at the diversity of his pottery for sale, I could also see his saying, "The nature of a potter is experimental," was borne out in utilitarian as well as decorative objects.
Up the street on Courthouse Square from the pottery lies Carolina Moon Distillery, where brand manager Martha MacDonald offered a tour while I was sampling the Carolina-aged brown whiskey, pure corn whiskey (moonshine), rum, aged rum and "fruit shines" (moonshine infused with fruit such as peaches). Most of the ingredients are sourced from within the Old 96 District, as well.
Stay & Play
Greenwood
Inn on the Square (104 Court Ave E) features a dramatic three-story lobby in an early-20th-century hotel in the heart of Uptown Greenwood on the Square. Classic rooms come with flat-screen TVs, coffeemakers, and free Wi-Fi. Upgraded rooms add microwaves, minifridges and/or whirlpool tubs. Breakfast and parking are complimentary. Pet-friendly.
To plan well ahead, always check days and hours for restaurants.
The Mill House/Good Times Brewing (233 Maxwell Ave). Good Times Brewing at the Mill House – situated in a renovated mill – bakes pizza in a brick oven, brews craft beers and serves gastropub fare.
Miss Ann's Fried Chicken (1032 Main St S), in a less manicured neighborhood, offers great fried chicken.
Montague's (115 Hampton Ave N), is an excellent, swankier, special-occasion spot in town.
Try the onion rings at Kickers (301 Maxwell Ave), where the chef-owner has traveled globally; and Buenavista Café (322 Main St) for a Cuban pulled-pork sandwich and bread sourced from a Cuban bakery in Atlanta.
Abbeville
The Belmont Inn  (104 E Pickens St) is a historic, locally owned lodging place with 25 rooms in the Abbeville Historic District.  It features an on-site restaurant with a pleasant veranda; it's a quick walk to performances at the Abbeville Opera House, unique shops and town restaurants.
Another Abbeville option besides the inn for breakfast is Main Street Coffee Company (109 S Main St), for lunch as well as frappes, lattes and smoothies.
Among many quaint shops, if you're short on time, try to stop in at the shops below. I justified gift purchases (which often end up as gifts-to-self): a scarf on sale at 105 West; a unique planter at Divine Your Space; blue grits (yes, blue) at Pendleton Farms; antique postcards at Crate and Quill; moisturizing cream from Breezy Quarters; and native, indigenous carvings at Wolf Tracks Gallery & Gifts.
Pendleton Farms (102 E Pickens St). Locally owned vintage home furnishings plus specialty foods.
Divine Your Space (130 Trinity St). Locally owned home décor shop and plant nursery.
105 West (120 Court Square). Locally owned women's clothing shop.
Crate & Quill (113 Washington St). Locally owned vintage shop.
Breezy Quarters (101 Church St). Female-owned local soap and body lotion/bath/skin-care products company. Widely varied, handmade products and scents.
Wolf Tracks Gallery & Gifts (121 Court Square).
Heading early for an overnight stay at Sharon Manor (12 Firehouse Rd) has its advantages, as this is the perfect place to relax and reflect on the day – or the trip home. With a welcoming front porch, the building has quite a story to tell – which owner Benita Chupp cheerily relates while setting a gourmet breakfast amidst fully appointed rooms and personal touches by her. (When planning your stay at either lodging, be sure to let them know about the Abbeville #JustRight Travel Package.)
This sampling of the Old 96 District leaves out much to be explored in future trips.
Originally published July 30th, 2021
Congratulations to Martha for this blog winning First Place Web & Social Media in the Virginia Professional Communicators Annual Communications Contest in April 2022.
—
Martha Steger, freelance writer and editor before and after 25 years spent as public relations director for the Virginia Tourism Corporation, has received state and national awards for her published articles, essays, poetry and short stories. A past president of Virginia Professional Communicators, she's a Marco Polo member of the Society of American Travel Writers and serves on the boards of the Virginia Chapter, Society of Professional Journalists Foundation, and the Society of American Travel Writers Foundation.
*Updated 9/27/2022: Justin has recently shut down the Old Edgefield Pottery studio inside of Edgefield's City limits and is focusing on his "country studio" that is located near Bettis Academy. The studio will be open periodically throughout the year for openings and events so if you would like more information on these you can check out his page on Facebook or at www.oldesgefieldpottery.com Justin notes that they are still in the transition stages currently and plans to have more capability to do online sales and open studio events closer to Christmas. Justin can also be reached by email at guypottery@com.