After spending a weekend in South Carolina's Old 96 District, I can confidently say you are sleeping on a great time outdoors. This stunning area of South Carolina is chock-full of beautiful state parks that offer great hiking trails, water activities, campgrounds, and other amazing activities to do outside.
The Old 96 District is home to numerous towns such as McCormick, Abbeville, Greenwood, and Laurens. Outside of these towns are some incredible camping areas such as Hickory Knob State Resort Park, Baker Creek State Park, Calhoun Falls State Park, and Lake Greenwood State Park. 
Whether you're in need of a new place to travel to or you want some adventure close to home, I definitely recommend checking out the Old 96 District. My weekend there was full of hiking, reading by the water, hammocking, and just in general a really great time.
Here is what I personally recommend doing outdoors while you're there!
Clark Hill Lakeview Trail
Clark Hill Lakeview Trail is located in Hickory Knob State Resort Park. This trail winds through beautiful woods and is rarely ever crowded.
The trail is a little longer than 6 miles, but can be slightly shortened if you cut through the middle route. If you're looking to get some extra steps in and enjoy some solitude in nature, this is a great one to check out.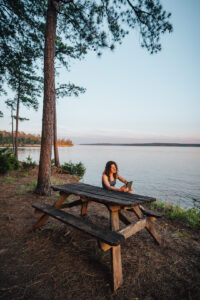 I didn't do the full route for this one, but I really enjoyed an evening golden hour stroll along it. The parking lot was practically empty on a Friday night and I really enjoyed getting the place to myself. 
I encourage you to pack some bug spray because the gnats start to come out around the evening timeframe, especially near the water. If you're lucky, you may see some deer around here as they're pretty common in this state park.
Savannah Valley Rail Trail
The Savannah Valley Rail Trail was my favorite trail during my weekend in the Old 96 District. I picked it out for it's length because I needed to tackle a long run for some training I was doing.
As the name insinuates, this trail was an old rail system and is now utilized for hiking and biking. I saw few people during my almost 3 hour run, but the wildlife kept me company. 
The entire trail is 9 miles in one direction, but it's easy to pick it up along that 9 mile stretch and shorten it to fit your hiking ability and any time restraints 
This trail was great for running because it's relatively flat and wide. Only a few sections had roots to watch out for, but for the most part it was pretty easy to navigate.
Cedar Bluff Nature Trail
Calhoun Falls State Park is home to the Cedar Bluff Nature Trail. The trail is a short 1.9 miles making it a perfect afternoon addition to any agenda.
The best part about this trail is how incredibly accessible it is. It's both kid and dog friendly so everyone can enjoy some time outside.
Scenic Shoreline Trail
Lake Greenwood State Park has a lot to offer in terms of the outdoors and one of its main attractions is the Scenic Shoreline Trail.
The trail definitely lives up to its name with incredible shoreline views of Lake Greenwood. I loved all the foliage here and I can only imagine it is absolutely stunning during the fall leaf peeping season.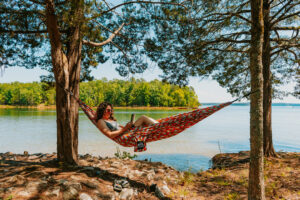 Palmetto Trail
Personally, I think the Palmetto Trail is one of the most iconic trails in South Carolina. The Enoree Passage section of this 500 mile trail falls within the Old 96 District. This section of the trail is 15.4 miles long. 
The Enoree Passage is a great hike for the cooler months or for those who love mountain biking. If you choose to take it on in the summer, please make sure you are well equipped with enough water and a way to contact someone if you start experiencing signs of heat exhaustion!
Downtown Abbeville Stroll
If you're looking for a way to get outdoors without hitting the trails or you need a break from adventuring, spend some time in downtown Abbeville.
I thoroughly enjoyed my time in this cute, picturesque downtown. I showed up around 11 am in desperate need of caffeine after a morning of hiking. 
I checked out Main Street Coffee Co first for a delicious Chai Latte to get my energy up for some window shopping. I then headed down the street to Daily Bread Bakery for a Cinnamon Roll that did not disappoint. 
After satisfying my sweet tooth, I stopped into Crate and Quill to peruse the array of different household goods and vintage items. I was really impressed with the selection and the unique decor that you can't find anywhere else. 
I realized shortly after that my cinnamon roll probably wouldn't cut it for lunch so I walked over to Indigenous Underground which specializes in southern cuisine. The food was delicious and the service was top notch.
Afterward I went to checkout the plant store across the street called Divine Your Space. I didn't get any because I'm terrible at keeping plants alive, but they do have local beer and wine for sale. I snagged some of this to take home so my husband could try the beer from one of the local breweries!
All in all I really loved my few hours exploring downtown Abbeville and I think it's a great way to beat the summer heat. 
Camp or Stay at Hickory Knob State Resort Park
Hickory Knob State Resort Park not only has great trails, but it also has a beautiful campground right on the water and a resort with a pool!
Camping at this state park is such a special experience. A majority of the campsites have direct water access which is great for people who love spending time on the water.
The state park also has numerous docks for fishing, kayak and canoe rentals, and plenty of shoreline access.
I was shocked when I saw there is a full blown golf course at this state park as well. If you love a round of golf then make sure to pack your clubs as well so you can get some swings in while surrounded by some stunning scenery. 
On top of everything else, there's also a fantastic firepit areas and a spot set up for yard games.
Beach Day at Calhoun Falls State Park
Calhoun Falls State Park as great beach access, gazebos, and plenty of spots for cooling off on a hot summer day.
I spent my time here reading a book in my hammock right next to the water, but I watched a bunch of groups splish splashing and having a blast swimming. 
The area seems to be a favorite among locals and I can see why. The water is a beautiful turquoise blue color in certain areas and there is plenty of space for everyone to have fun. 
Blue Hole Recreation Area
I stumbled upon Blue Hole Recreation Area accidentally and it was such a nice surprise. I was leaving Calhoun Falls State Park and I saw it on my google maps. Curiosity got the best of me so I took the small detour to see what it was all about. 
Blue Hole Recreation Area is the ideal spot for a family hangout or swim with friends. There's no recreation fee and a decent size parking lot. Since this area isn't actively managed, please be extra mindful to follow leave no trace and make sure you leave it better than you found it!
There are spots for grilling in this area, a nice beach, a dock, and many areas for swimming. Additionally, there's a spot to put in a small boat to take a cruise on the water.
Picnic and Boating at Lake Greenwood State Park
Lake Greenwood State Park is a very convenient location for those who live in the surrounding major cities like Spartanburg, Columbia, and Greenville.
The park is a favorite for many reasons including access to fishing, a boat ramp, playgrounds, campgrounds, and picnic shelters/tables. 
I visited on a Sunday mid day and it was definitely busy but I was able to find a parking spot and an patch of grass to relax by myself without any issues. 
Families were thoroughly enjoying the parks amenities and I could tell that many regulars love spending time out on the lake.
Cate is a hiking addict with a love of all things outdoors. Most of what she shares on her Cate's Compass blog focuses on camping, hiking, backpacking, and other incredible outdoor activities. Follow her on Instagram @CatesCompass. All photos were captured by Cate too.