Who doesn't love spending summer and enjoying vacations in beautiful South Carolina? If you want a break from the beach and still need to cool off, then the Old 96 District is just the place for you! The region has so many fun and adventurous things to do in the five county area.  You are sure to enjoy some summer fun and relaxation in the South Carolina counties of Abbeville, Edgefield, Greenwood, Laurens, and McCormick. The Ultimate Summer Guide to the Old 96 District of South Carolina has lots of different options for spending a day, a week or several weeks enjoying our outdoors, exploring our historic sites, camping on lakes that have scenic views, indulging among a variety of dining options and so much more.
EAT
Mama's Sweet Shoppe- Due West, SC. Fresh house-made donuts, coffee, and a menu that changes daily!
Fat Daddy's BBQ- Greenwood, SC. Classic South Carolina Bar-B-Cue, with house-made sauces and some of the best hash around.
Break on the Lake- Greenwood, SC. Watch the sun set over Lake Greenwood while enjoying seafood and other American cuisine.
Old Edgefield Grille- Edgefield, SC. This historic-home-turned-restaurant serves classic Southern cuisine.
SIP
Good Times Brewery- Greenwood, SC. The Mill House Pizza and Good Times Brewery team up to serve locally-made pizza and beer in the heart of Greenwood.
Carolina Moon Distillery- Edgefield, SC. The Old 96 District's very own micro-distillery, using fresh locally-sourced ingredients. We recommend the vodka.
Three Star Vineyard– Johnston, SC. Wander rows of scuppernong and muscadine grapes, sample the wine, or relax at their spiked slushie bar.
Feelin' Peachy? Check out our own Sips & Samples page for peachy drinks across the District.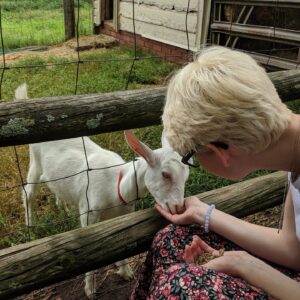 EXPERIENCE
Abbeville Opera House- Abbeville, SC. This historic venue has been open for over a century. Check their website for details on live music, comedians, and more.
Emerald Farm- Greenwood, SC. With friendly saanen goats, free-roaming peacocks, a mystery.
25 Drive In- Greenwood, SC. Enjoy a classic drive-in movie theatre experience with food delivered to your car.
Palmetto Shooting Complex- Edgefield, SC. Shoot clays at Old 96 District's premeire shooting complex! Great for seasoned pros and beginners alike.
Hickory Knob State Resort Park- McCormick, SC. South Carolina's only state park that is also a resort. Camp or stay in a cabin and enjoy golfing, hiking, skeet, archery, fishing and more.
STAY
Hickory Knob State Resort Park- McCormick, SC. Stay at a campsite or choose from a variety of different suites and cabins. Step outside and be right in nature.
Sharon Manor- Abbeville, SC. A cozy bed and breakfast located just minutes from Abbeville, SC. Check out their spotlight here! 
Belmont Inn- Abbeville, SC. This historic inn sits right next to the Abbeville Opera House in the heart of the town square.
Inn on the Square- Greenwood, SC. Greenwood's first full-service boutique hotel is walking distance from many of the town's best restaurants and shops. They're also dog friendly!
Lady Amelia Bed & Breakfast Inn- Cross Hill, SC. This cozy B&B is an easy drive from Greenwood and also serves as a gourmet restaurant!