With everyone rushing to get outside and get some fresh air, many of mother nature's biggest fans may find themselves looking back at their map for something new. Finding a new favorite place is a mix of trial, error, and pure luck. What's the best hiking trail, easy to reach but not over-crowded? What lake makes a good weekend getaway? What state park is worth a road trip? 
Old 96 District covers five South Carolina counties, nestled against the Georgia border. Between these counties (Abbeville, Edgefield, Greenwood, Laurens, and McCormick,) are plenty of natural wonders that hit that sweet spot for many. Three lakes, six state parks, and over 250 miles of hiking trails mean there's plenty to do. Whether you're a fan of fishing, challenging hikes, or just enjoy meandering through the scenery, there's something to do for every kind of nature lover. Here are our tips for some of the highlights:
The Casual Hikers 
Some of us are new, some of us just like to enjoy ourselves without pushing too hard! Both are completely fine. Old 96 District has plenty of walking trails, gentle strolls, and trails ranging from easy to medium. Some of our favorites include the Ten Governors trail in Edgefield, SC. Starting with a boardwalk over Slade Lake, the Ten Governors trail invites visitors to wander past historic homes and monuments to each of the ten SC governors that hail from Edgefield county. It's a mile one way, or two miles round trip. Afterwards, grab an ice cream cone from the Edgefield General Store! 
The Endurance Hikers and Bikers
Like we mentioned before, over 250 miles of hiking trails means 
there's room for plenty of variety. Shorter, beginner-friendly trails are plentiful, but the Lakeview Tail in Hickory Knob State Park rewards those in it for the long haul. On Old 96 District's Top Ten Best Trails List, the Lakeview Trail runs about 6.7 miles with panoramic views of Lake Thurmond. For even longer excursions, the Forks Area Trail System (FATS for short) connects several looping trails together for routes up to 34 miles long. 
The Boaters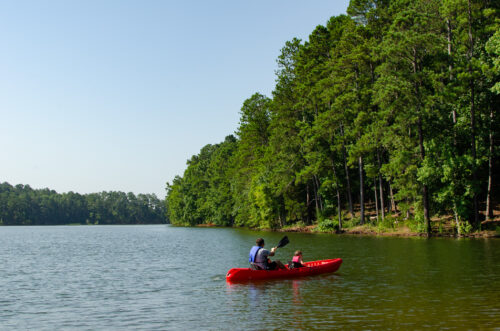 Some outdoorsy people prefer the open water and a clear sky- and who can blame them? Old 96 District has many places to fish and boat, whether your preference is a larger boat or a humble kayak. Together, these three lakes hold over 100,000 acres of water. Besides the State Parks with lakeside access, plenty of Marinas also give boaters ample access to the water.
The Explorers
Sometimes we find the most interesting nature visits are the ones where there is stuff to find and stuff to meander through. Old 96 District is home to two different Revolutionary War battlefields, each with their own unique story. Explore the still-standing Star Fort at Ninety Six National Historic Site (the only one left of its kind!) where the siege of Ninety Six took place, the first Southern land battle of the war. At the Battle of Musgrove Mill State Historic Site, scenic trails run alongside the battleground. Learn the play-by-play of this battle… and its twist ending! 
The "Glampers"
Some of us like to camp while keeping our amenities close-by. If you love the idea of a weekend getaway in nature but prefer the comfort of a mattress and hotel room, Hickory Knob State Resort Park might have you covered. Hickory Knob is the only South Carolina State Park that is also a resort, meaning you can tailor your experience to exactly your level of comfort. Choose a campsite, a group cabin, or inviting hotel rooms. Take a dip in the lake, or take a dip in the swimming pool. There is also skeet-shooting, an 18-hole golf course, and more on site.

That said, Old 96 District's five other State Parks have a lot to offer, including some breathtaking views and trails. While you're in the area, consider enjoying some of the other State Parks and getting the full experience, maybe even getting a head start on your Ultimate Outsider status.
These, of course, are only some of the ways to enjoy everything Old 96 District has to offer. Take a more in-depth look at the trails or find the campsite with the best view. With so many ways to enjoy the area, we encourage people to do what they do best: get out there and explore!